Any company that makes and supplies chemicals needs to ensure that their quality meets the standards required by their customers, and the downstream users of their products. Regulators such as FDA in the US and EMA in Europe impose strict quality requirements on products destined for the public, including pharmaceuticals, cosmetics and toiletries.
To document proof of safety, regulatory bodies require that manufacturers follow current Good Manufacturing Practice (cGMP). Whether it's a complex API or an advanced intermediate for a pharmaceutical, these rules ensure the identity, strength, quality and purity of a drug is appropriate, which includes sourcing and using raw materials that meet quality requirements. Similarly, GMP for cosmetic products (covered by ISO 22716) is mandatory in the EU and highly recommended elsewhere.
Even excipients such as stearates or sucrose, whose production is not directly covered by such regulations in the EU or US, are monitored. In the EU, for example, the responsibility lies with a drug's manufacturer to ensure that suppliers of excipients are appropriately controlled. And although GMP does not strictly apply to the production of registered starting materials (RSMs), APIC's (Active Pharmaceutical Ingredient Committee) 2018 guidance for auditing suppliers of RSMs recommends that control principles of the ICH Q7 GMP for APIs can be applied to RSMs.
The risk of an issue occurring will be reduced if [suppliers and manufacturers] are both in control

Myriam Gueye, segment manager
Manufacturers can reduce the risk of problems arising by testing ingredients before they are used, collating all the relevant data to accompany their products all the way down the chain, and ensuring the integrity of the data. 'In case of any quality issue reported on a drug, the manufacturer will potentially look right back to the start of the whole supply chain and contact the raw material suppliers to help identify the issue,' says Myriam Gueye, segment manager at Sartorius. 'It is better to have reliable data.' The FDA's guidance on data integrity for cGMP states that manufacturers should maintain complete records of data from all tests for that very reason.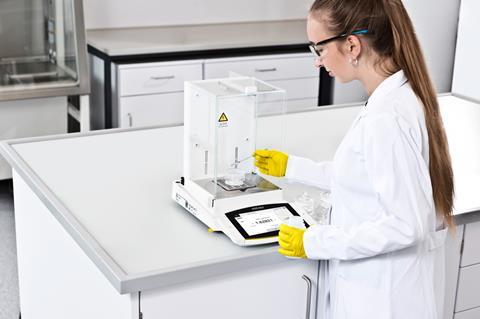 Standards for protocols laid down by the US Pharmacopeia (USP) or European Pharmacopeia (EP) include tests designed to check for chemical or microbial contaminants, and quantify any that might be found. These protocols determine whether they meet the required standards, but manufacturers must maintain the audit trail for these tests confirming that all is well documented.
These records are essential, as the regulators can demand to see any or all of the documentary evidence during routine inspections or after a problem has been identified with a product. While companies that make pharmaceuticals or cosmetics are likely to test their raw materials as they enter the facility, the suppliers of those ingredients must also ensure their products meet their customers standards before they are shipped. This places demands on those suppliers to carry out analyses that meet all the relevant regulations.
Unsurprisingly, careful weighing of samples is crucial when carrying out USP or EP tests, as is ensuring that no contaminants are inadvertently introduced. A good example is USP <233>, which gives the procedures required to make up samples and test for traces of heavy metals such as mercury, cadmium, lead and arsenic. The chapter specifically states that all reagents used to prepare the standard and sample solutions must be free from contaminants, whether the analysis is being done using ICP-OES or ICP-MS. This includes water, if this is what is being used to dilute the sample. The balances themselves are subject to a USP, <41>, as is water when used in pharmaceutical products and processes, with the various standards summarised in USP <1231>.
'In my experience, the raw material providers to these cosmetic and pharma companies will run their own tests, even if the drug and cosmetic makers themselves will be doing testing too,' Gueye says. 'The risk of an issue occurring will be reduced if they are both in control.'
Loss on drying
The analytical tests mandated by the regulators vary from one type of product to another, depending on the nature of the product and its intended use. One example of a test specified is USP <731>, which is designed to assess loss on drying – essentially, how much water is present in the sample. The European Pharmacopeia (EP) has a similar, subtly different, test, in its Chapter General Notices 1.2, as do the pharmacopeia used in other territories such as Japan and China.
The amount of water present in an ingredient is important in many product formulations. 'There is a specific requirement for moisture content in powder-based products such as eyeshadows and blushers, and even mascaras and creams,' says Tricia Vail, regional business manager at Sartorius. 'Too much water will make an eyeshadow gooey and gummy, and very difficult to apply. But not enough water will make it very powdery and likely to blow away.' It is also important on the pharma side: the presence of water will affect the amount of an active ingredient within a formulation if it is not accounted for when it is weighed; with excipients, it can impact the product's behaviour.
Loss on drying tests give a precise measurement of how much volatile material is within a sample, and that means making accurate measurements of mass. To carry out the test according to USP <731>, 1–2g of the sample is crushed and then placed within a dried shallow bottle with a glass stopper, weighed, and then the stopper removed before heating in a drying chamber. Once the sample has cooled, it is re-weighed to determine the amount of water in the original sample. The protocols require the samples to be dried to constant weight, the definitions of which differ slightly between USP and EP, but either way if two consecutive weighings are not sufficiently close, the drying process should be continued until they are.
Devices such as the Sartorius Cubis® II balance can make these tests simpler to run, and ensure a secure data trail is created. The balance can measure up to seven decimal places, and therefore can weigh accurately down to 100 ng. Such precision is important, particularly for products like eyeshadows where the moisture content is naturally low and there is only a tiny amount of water to lose on drying. The balance's software accounts for the type of sample and whether a USP or a EP test is being carried out, and will determine whether the sample passed or failed the test. It guides the user through the back-weighing process, recording the initial sample weight and up to three back weights for up to 10 batches of 100 samples each, and will indicate automatically if a sample's weight difference falls into allowable limits, or whether further drying is required.
Data integrity is key in meeting regulatory requirements. The balance stores all the data in a way that cannot be altered, whether accidentally or deliberately, and the data are compatible with other devices and laboratory information management systems (LIMS). The device is also designed to be adaptable should requirements change in the future. A recent enhancement has been to redesign its anti-spilling weighing pan, ensuring any powder that misses the sample bottle falls to the bottom of the balance and will not be weighed, meaning that only that which is within the sample bottle is included.
Ultrapure water
Multiple different testing protocols require water, often as part of a sample preparation protocol or when making reference standards. Spectrophotometric methods such as ICP-MS can measure as low as parts per trillion, and any contamination inadvertently introduced via water can cause substantial problems, as unwanted peaks in your analysis and|or by causing blockage in the analytic instrument – leading to premature maintenance and column exchange and thereby increasing costs. 'You have to be certain that any unexpected peaks do not come from the water,' Gueye says. Otherwise, there may be a fruitless search trying to pin it down within the sample itself, wasting precious time and resources.'
Using ultrapure water allows [analysts] to be sure that any "ghost" peaks are from the sample itself, not the water

Tricia Vail, regional business manager
Whether the test protocol involves HPLC, UPLC, FTIR, ICP-MS or gas chromatography, it will be looking for impurities, often in very small quantities. 'Each regulation is different but, as a broad analogy, they are looking for a drop of red paint in a bucket of white,' Vail says. 'Using ultrapure water allows them to be sure that any "ghost" peaks are from the sample itself, not the water.'
Even when bottled HPLC grade water is bought in, it is not unusual for it to have a high total organic carbon (TOC) level, and purifying water immediately before use is more reliable. The Arium® ultrapure water systems from Sartorius are designed to meet these requirements, producing up to approximately 100L of Type 1 water on demand a day, meeting the requirements of ASTM, NCCLS, ISO and USP standards. USP's guidance on TOC, for example, is set out in USP <643>.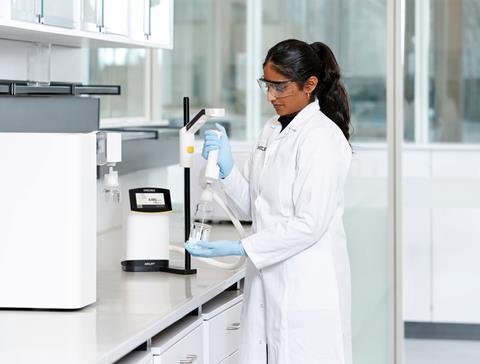 Multiple sequential steps are used to purify the water: pre-filtration adsorption to make Type 3 water; this then undergoes electronic deionisation giving Type 2 water; and this is purified further, using UV oxidation, ion exchange and then membrane filtration, making Type 1 water, with TOC equal to or below 2ppb. The Arium® system can even be used in conjunction with up to 3 Smart Station, separated by up to 4 meters that can dispense water, in the exact quality and quantities required for their experiments, when and where users need it.
These are just two examples of sophisticated devices designed to help scientists in analytical labs meet the stringent requirements of the regulators. With ever more stringent limits being imposed in the interests of product – and consumer – safety, being able to meet regulatory demands has never been more important.
Discover Sartorius solutions for your chemical processes here

At Sartorius, we empower scientists and engineers to simplify and accelerate progress in life science and bioprocessing, enabling the development of new and better therapies and more affordable medicine.
View full profile