Big pharma companies are embracing a more open and collaborative approach. Nuala Moran discovers who's working with whom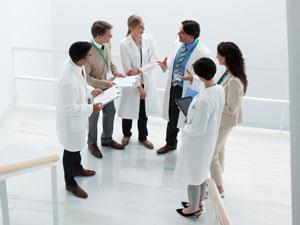 The double whammy of stagnating productivity in R&D and blockbuster drugs losing their patents has prompted huge changes in the pharmaceutical industry. There has been a surge in acquisitions and licensing deals to access new products, and a fundamental reshaping of research operations in a bid to plump up denuded pipelines.
In the worst single year – 2012 – drugs with annual sales of $38 billion (£23 billion) went off-patent. The loss of exclusivity continues to reverberate, with prescription drugs that sell US$290 billion a year facing competition from generic versions from 2012–2018.
Pharma urgently needs replacements for blockbuster products that are losing patent protection and, in parallel with forging joint research deals with biotech companies, is now looking further down the food chain to tap alternative sources innovation at their root, in universities and public research institutes.
In the past five years there has been a clear shift from an ad hoc, one-to-one, local approach to partnering with universities, to the implementation of comprehensive, high-level strategies for capturing academic research at all the leading pharmaceutical companies.
The specifics vary from one company to another, and range from sending corporate scientists to work alongside academics in universities, to bringing university scientists into corporate labs, and everything in between. Essentially, pharma companies are outsourcing target biology and initial assay development to academia, whilst also seeking to influence the way publicly funded research is conducted so that the outputs are more amenable to feeding into their industrial-sized compound screening and medicinal chemistry programmes.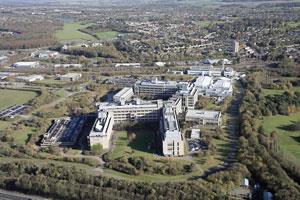 There is a lot of experimentation going on to find productive ways of collaborating. At GlaxoSmithKline (GSK) in the UK for example, this ranges from Cambridge University scientists working at GSK's Stevenage R&D campus, to a £5 million collaboration with AstraZeneca under which the two are jointly funding research in inflammatory diseases at Manchester University; industry-wide collaborations as part of the European Union's €2 billion (£1.68 billion) Innovative Medicines Initiative (IMI), and on to the Discovery Fast Track project, in which the company is striking partnerships with individual scientists to accelerate the translation of target biology into drug candidates.
Fishing for targets
Under Discovery Fast Track in 2013, GSK ran a competition inviting academics in North America to submit a one-page application outlining a novel drug development concept. The competition attracted 142 entries from scientists based in 70 institutions, with eight winners getting access to GSK facilities and compound libraries containing 1.8 million molecules, to develop assays and do high-throughput screening.
If screens are successful, the scientists can become part of GSK's Discovery Partnerships with Academia (DPAc) scheme, in which the company funds work in academic labs. 'The quality of entries, from some of the top research organisations in North America was exceptional,' says Pearl Huang, head of DPAc. 'The winning programmes represent groundbreaking research concepts.' Under the scheme, originally launched in the UK in late 2010, academics become core members of GSK discovery teams, with GSK funding research in university labs and providing the resources required to push projects through to candidate drug stage.
In a similar initiative in 2013, Johnson & Johnson announced plans to establish four regional innovation centres in California and Boston in the US, Shanghai in China and London in the UK to scout for early-stage research in universities and biotechs. 'Our goal is to have continuous access to the best science and technology in the world,' says Paul Stoffels, J&J's chairman and chief scientific officer. 'The centres allow us to be closer to where innovation occurs, to access and invest in the best early-stage science and technology.'
Each of the centres acts independently of corporate business development, with a team of scientists who can assess the science and legal specialists on hand to draw up contracts. The London Innovation Centre opened in March 2013 and in May announced its first collaboration with three institutions in Belgium, in which J&J is investing €5 million over five years to improve understanding of the mechanisms that underlie neuron death in neurodegenerative diseases.
In December, J&J said it was extending its UK technology scouting network even further, setting up partnering offices at life science clusters in Cambridge, Edinburgh, Manchester and Oxford. These are in addition to an office set up at the Bioscience Catalyst incubator based at GSK's Stevenage R&D campus. 'It's at the Bioscience campus that we learned the value of reaching out locally and following up with meetings at our centre in London,' says Kurt Hertogs, incubator strategy leader. 'This is priming relationships with key opinion leaders, investigators and investors who know their local ecosystem.'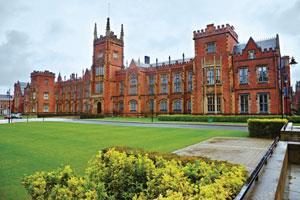 Another attempt to bring industry disciplines and skills to bear in a university setting began in September 2013, when Almac Discovery agreed a £13 million collaboration with Queen's University Belfast in Northern Ireland. The company will set up a drug discovery facility at Queen's and 17 Almac scientists will work for three years at the university on a joint programme in oncology drug discovery.
As part of the agreement, Tim Harrison, Almac's vice president of R&D was appointed to a chair in medicinal chemistry at Queen's and is dividing this role with his corporate responsibilities. 'Obviously, you can do things at a distance, but these are multidisciplinary [projects]. It's only by getting everyone in a room on a regular basis that you can [progress] things efficiently,' he says.
These initiatives by GSK, J&J, Almac and others underline an increasing appreciation of the central role that novel, validated targets play in drug discovery.
Advances from academia
The overtures are not all coming from the industry, however. Universities and public R&D funders recognise the need to shape their research to fit pharma's requirements. One of the best examples is Cancer Research Technology (CRT), the technology transfer arm of Cancer Research UK (CRUK), Europe's largest oncology research charity, investing £300 million a year in R&D.
Keith Blundy, chief executive of CRT, says there is an appetite in pharma to forge partnerships at earlier stages. That's because 'biology is king'. A lack of understanding of the basic biology of disease processes is one of the key reasons for the fall in the industry's R&D productivity, according to Blundy.
Collaborations and licensing agreements come in many different formats, says Blundy. 'There are all kinds of different models, using resources and inputs on both sides of the partnership.' For example, CRUK recently agreed with Janssen Biotech, part of J&J, to identify drugs that block a signalling pathway through which cells accommodate to the stresses of unfolded or misfolded proteins. As a result, they are co-funding up to 25 scientists at the Institute of Cancer Research in London, and Janssen will lead on the clinical development of any drug candidates emerging from the project.
While AstraZeneca and CRT have signed a number of collaborations, an agreement in June 2013 broke new ground in giving CRUK scientists from the Paterson Institute for Cancer Research at the University of Manchester in the UK access to screen a potential target against AstraZeneca's compound collection. As the first time an external group has been allowed access to AstraZeneca's chemical libraries, the agreement underlines how the search for innovation is changing the rules of engagement between pharma and the wider research world.
These rule changes extend to reversing the natural order of things, with academics taking in compounds from pharma and putting them through further development. In December 2013, CRUK announced that it was to take AZD2098, a compound originally developed by AstraZeneca as an asthma treatment but ditched in 2005, into a 40-patient clinical trial in kidney cancer. This is the third AstraZeneca product taken on by the charity and the ninth drug to enter CRUK's Clinical Development Partnership, under which it adopts drugs that phama companies have shelved.
Government catapults
The UK government has maintained public funding for science in the recession because it sees R&D as a source of innovation and future economic growth. But there is now a recognition that the government also needs to play an active role in fostering translation, providing proof-of-concept grants for companies, encouraging universities to view collaboration with industry as a third mission (to add to teaching and research), and providing formal channels and resources for accelerating basic research towards commercialisation.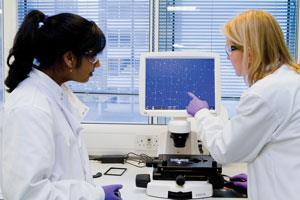 Catapult centres are building blocks of this strategy, and they have been set up on the model of Germany's Fraunhofer Centres, to provide resources and expertise needed to get novel technologies to market. Existing Catapults of interest to pharma are the Cell Therapy Catapult in London and the High Value Manufacturing Catapult, which provides support to develop processes for manufacturing biopharmaceuticals. Another Catapult currently being planned will focus on delivering on the potential of stratified medicines.
While the High Value Manufacturing Catapult covers all sectors and is based across the UK, it has two arms of special interest to pharma, at the Centre for Process Innovation in Redcar and the new National Biologics Manufacturing Centre (NBMC) in Darlington, currently under construction and due to open in 2015. They will provide assets and resources to allow companies to develop and prove processes before investing in capital equipment.
Accessing such skills and expertise is increasingly important to pharma, which has more and more products that are manufactured in live, cell-based systems, with the number of biological drugs in their pipelines increasing by 50% between 2009–2013. Chris Dowle, head of the NBMC told the bioProcessUK Conference in London in December that the Darlington centre will help bridge research through to the market. 'It will be flexible to help you go faster, help to alpha test, beta test, do process improvement and reduce risk.'
Pharma companies join together
In another striking change to the natural order, the search for innovation is leading pharmaceutical companies into collaborations with each other. The premier example is the €2 billion Innovative Medicines Initiative (IMI), established under the European Union's seventh R&D framework programme (FP7).
IMI has the grand objective of rebooting pharma R&D by tackling bottlenecks such as knowledge fragmentation, gaps in understanding of disease biology and inadequate toxicity testing tools. The projects IMI takes on are nominated by the R&D directors of the 12 pharma companies that are part of the initiative. These companies are putting in €1 billion in resources, to match the €1 billion in grants to university and biotech partners provided under FP7. A key principle of IMI is that more than one pharma company must be involved in each project.
The high level of collaboration in IMI is exemplified by New Drugs for Bad Bugs, a €600 million, seven-year attempt to address the problem of antibiotic resistance and speed up development of new antibiotics. John Rex, vice-president and head of infection at AstraZeneca told Chemistry World this project is very important in setting the scientific, regulatory and commercial backdrop to attract companies back into antibiotic research (see Rearming the antibiotic arsenal).
Since it started in May 2012, New Drugs for Bad Bugs has established seven work programmes, from developing tools for early discovery to working with regulators to agree abbreviated approvals routes. It has put two compounds donated by AstraZeneca and GSK through Phase II development and devised business models to ensure there is a return on investment while still limiting use to deter the emergence of resistance. 'It is a really good example of taking a coherent approach to the whole pathway,' Rex says. 'If you want a diverse and vibrant pipeline, you have to find ways to make companies want to do this work.'
Another example of precompetitive research being carried out by IMI is the European Lead Factory, a €196 million project in which seven pharma companies are making 300,000 compounds available for screening via an open platform. The intention is to give academics access to industry-quality high-throughput screening, speeding the translation of target biology through to drug leads.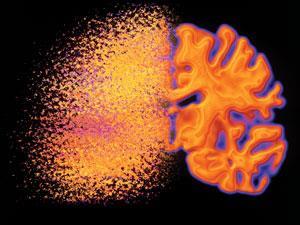 The pharmaceutical companies contributing compounds to the European Lead Factory are Bayer Pharma, AstraZeneca, Lundbeck, Sanofi, Merck KGaA and UCB. This collection will be boosted by 200,000 compounds that will be newly synthesised using pooled knowledge of all consortium members, and through open innovation and crowdsourcing. When fully operational, the European Lead Factory will provide the compounds and support for 48 high-throughput screening projects per year. Once a screen has been run, the organisation that submitted the target will receive a list of up to 50 hits for further development.
Such is the new-found appetite for pre-competitive collaboration among Europe's pharma companies that January 2014 saw the launch of IMI2, as part of the European Union's eighth framework R&D programme, Horizon 2020. 'We have enjoyed some significant success and learned a lot about how to set up and run large-scale projects in which partners from industry, academia, small business, patients' groups and others join forces,' IMI director Michel Goldman said when IMI2 was announced. This second phase of the programme will have an increased budget of €3.45 billion, with much of the research aimed at understanding disease mechanisms to improve target identification in areas of high unmet need, including antibiotic-resistant infections and neurodegenerative diseases such as Parkinson's and Alzheimer's.
The leading pharma companies are taking a systematic approach to accessing innovation, collaborating with scientists to tap their insights and knowledge and drive the initial translation of academic research into new drugs. It is a recognition that the people who are important in the early stages of drug discovery are those who know about the science, and any asset suitable for commercialisation reaches that stage because there is deep understanding of the underlying target biology.
Nuala Moran is a science writer based in Audlem, UK