Pfizer–BioNTech reach safety threshold for emergency authorisation, while Moderna's data peek suggests 95% efficacy
Preliminary analysis of trial data suggests Moderna's mRNA Covid-19 vaccine candidate will likely offer around 95% protection against the disease. This is similar to Pfizer and BioNTech's mRNA vaccine, which has now reached the required safety monitoring threshold and number of cases to conclude the trial and apply for Emergency Use Authorization in the US.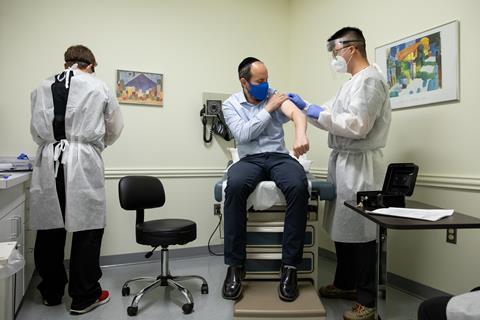 Moderna claims efficacy of 94.5%, based on 95 cases of Covid-19 among over 30,000 participants in the firm's US-based phase 3 trial. Of these, 90 were in the placebo and five in the vaccine group. Eleven volunteers developed severe symptoms, but none of those had received the vaccine.
Pfizer–BioNTech's updated data give an efficacy of 95%, based on 170 cases (162 in the placebo and eight in the vaccine group). There were 10 severe cases, of which one was in the vaccinated group. The companies also state that they have surpassed the US Food and Drug Administration's safety monitoring threshold, meaning they will now apply for Emergency Use Authorization in the US.
If a company can come out with reasonably promising data for a single-dose vaccine, then I don't think these other three vaccines are going to have an easy time competing with them
Vaccine scientist Gregory Poland at the Mayo Clinic in Rochester, US, calls the Moderna release 'very encouraging news', although as with Pfizer–BioNTech's announcement, this early release could not include information about long term durability or whether the vaccines prevent asymptomatic transmission.
The Moderna vaccine can be stored at standard freezer temperatures of around –20°C for 30 days, making it logistically easier to handle than Pfizer–BioNTech's. 'If the efficacy and safety holds up, it is a game changer,' Poland adds.
Moderna's vaccine requires an initial dose and a booster, with protection measured from 14 days after the second dose. This means it is around 42 days before full protection is expected to kick in, observes Byram Bridle, viral immunologist at the University of Guelph in Canada. Similarly, Pfizer–BioNTech measured protection levels from seven days after the booster dose, or 28 days after the initial dose.
Interim results for the Russian vaccine Sputnik V have also been press-released, describing a vaccine efficacy of 92%. This is based on much smaller numbers: 20 confirmed Covid-19 cases in a trial of 16,000 people receiving two doses of the adenovirus-vectored vaccine. Concerns were raised when this vaccine was approved in Russia after just a small phase I study.
Experts believe that the University of Oxford–AstraZeneca team should also soon report results for its chimp adenovirus-vectored vaccine, and several others are progressing well through trials. Bridle is particularly excited that some of these candidates are being tested as single doses, which could confer protection after around 14 days. 'If they can come out with reasonably promising data, then I don't think these other three vaccines are going to have an easy time competing with them,' he says. Poland observes that adenovirus-vectored vaccines often have uncomfortable side effects – potentially more so than the mRNA vaccines – which could count against them. That said, it's likely all available vaccines will need to be deployed simultaneously to satisfy initial demand across the world.
While the companies naturally want to share their preliminary results – both for the sake of transparency and to encourage pre-order deals, immunologists are now waiting for peer-reviewed papers. 'These media releases are exceptionally frustrating,' says Bridle. 'No scientist can definitively state how good these vaccines are going to be with the complete lack of data that there is.'
Editor's note: this story was edited after publication on 18 November to clarify information about the Oxford-AstraZeneca vaccine and other candidates in development