Suspected data manipulation or fabrication casts shadows over safety trial report for hastily-approved Sputnik V
The first data on Russia's Sputnik vaccine for Covid-19 – whose rollout and use was authorised by the Russian government without large trials to determine its safety or effectiveness – has been published. However, researchers have immediately questioned the validity of the data, suggesting some of it appears to be fabricated.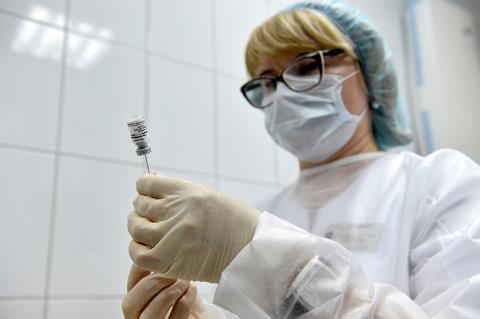 Enrico Bucci from Temple University in Philadelphia, US, has flagged concerns in an open letter to the Lancet. When he began reading 'various duplications jumped out at me,' says Bucci, who has experience in data integrity problems.
The Russian Lancet paper reports on the safety and immune response to the vaccine. The trial initially tested safety by injecting participants with one version of the vaccine – based on either a human adenovirus 26 (Ad26) vector, or an adenovirus 5 (Ad5) vector – containing the genetic recipe for the Sars-CoV-2 spike protein.
In a second phase, participants received a priming dose of the Ad26 version, and a booster of the Ad5 version. All apparently generated antibodies to the spike protein, and a T cell response was seen at 28 days. Side effects were common but mild, including fever and headaches.
Bucci says the study looks underpowered. 'They tested six different formulations, basically split among six groups of volunteers,' he says. 'It is like six independent studies in a single article.'
Antibody levels went up after vaccination, though not as high as in the early trials of vaccines from the University of Oxford/AstraZeneca or Moderna. 'There is an immune response, but it seems like a mild response. It is a small trial, no control arm,' says immunologist Luke O'Neill from Trinity College Dublin, Ireland. 'It is very preliminary. That's the bottom line.' Saad Shakir, director of the Drug Safety Research Unit (DSRU) in Southampton, UK, agrees. He cautions that 'no one has demonstrated that these [antibody] elevations will translate into protecting people'.
'There are strange duplicated patterns in the data, among different groups, observing different variables,' says Bucci. He notes that the nine patients for which CD4 T cells were measured have almost the same values as the other nine patients for which CD8 T cells were measured. 'It's like you enter a room with nine people and you add their ages together, and find that that number is exactly the same as the combined weight of those people,' says Bucci. 'It is strange. But we don't have access to the data and we can't really assess what is going on.'
The Oxford group, for example, made over 100 pages of supplementary material available with its Lancet paper. The Russian paper includes 22 pages, but lacks the data required to verify the paper's conclusions. 'This is not an allegation,' says Bucci. 'We are asking for evidence.' In a statement, the Lancet says it has invited the authors to respond to questions raised in the open letter and following the situation closely.
'What worries me is that some countries with poor healthcare systems may buy the Russian vaccine, despite their limited resources,' says Shakir. 'They are really buying a less than half-baked cake.'

I am a freelance science journalist based in Dublin, Ireland. I cover a variety of topics in chemical and biological sciences, as well as science policy, health and innovation.
View full profile