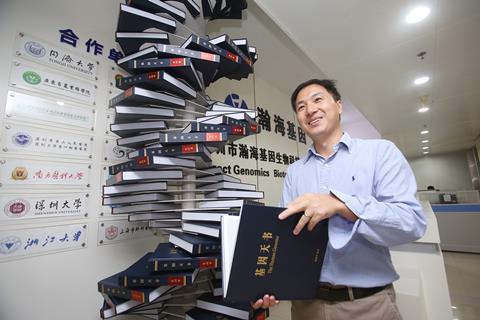 A preliminary investigation has concluded that rogue geneticist He Jiankui broke regulations to create the world's first gene-edited babies. China has said that He will be punished for his actions. The Southern University of Science and Technology in Shenzhen where He worked has now fired him.
A team of investigators told the official state Xinhua news agency that its investigation found that He intentionally dodged research oversight and used potentially unsafe techniques to edit human embryos. Investigators said He forged ethical approvals to recruit eight couples to his research project, resulting in two pregnancies. One of the mothers gave birth to twins. Another woman is carrying a gene-edited foetus.
I'm not sure what there is to be done for the children except to monitor their health and hope for the best

Kiran Musunuru, University of Pennsylvania
Details of He's human gene-editing experiments emerged last November at the Second International Summit on Human Genome Editing, following a media frenzy after the geneticist announced what he had done through the press. He described editing the CCR5 gene of embryos to give them resistance to HIV. Geneticists at the meeting and around the world were highly critical, fearing a regulatory backlash against gene-editing.
Chinese authorities said that He, his staff and organisations involved in this project would be punished. The investigators noted that editing of human embryos is banned in China. China's ministry of science and technology has reportedly ordered research institutes to halt any of He's projects they're involved in. He has not been seen in public since he announced the birth of the twins in November, leading to speculation that he has been detained.
'The latest report about the investigation by Guangdong authorities revealed something new, that Dr He had forged ethical documents,' comments Kiran Musunuru, a molecular biologist at the University of Pennsylvania, US. 'Details are so far lacking, but that's an egregious ethical violation.'
His actions were quite secretive, says Helen O'Neill, a geneticist at University College London. 'He had presented data at conferences with animals models, but never made his intentions for human clinical practice known. He had made it clear that his hero was Bob Edwards, who created the first IVF baby.'
The initial local reaction in Hong Kong was 'quite positive', with China viewed as leading the world in gene-editing, but the horror and disgust that met the announcement changed matters, recalls O'Neill. 'His own personal website disappeared and many of those regional stories also disappeared, because they realised that the public and global perception of his "achievement" was not the same.'
She says He should have known better. 'There is an impression that China is the wild west in terms of research ethics, but it is an advanced research environment and [the controversy] has done a disservice to Chinese scientists.'
Musunuru says China's health ministry prohibited genetic manipulation of human gametes, zygotes and embryos for the purpose of reproduction in 2003. 'It's up to the Chinese government to decide how strictly this should be enforced and what penalties apply. Given the tenor of the reported statements from the authorities involved in the investigation, it seems they'll be quite strict.'
In an interview with the Beijing Youth Daily, Shao Feng from the Chinese Academy of Sciences said the whole incident would need to be investigated thoroughly. 'If I were to handle the matter, I would never tell [the twins] they've been gene-edited and allow them to live their lives like normal people,' he said.
'I'm not sure what there is to be done for the children except to monitor their health and hope for the best,' Musunuru adds. 'Anonymity would be in their best interest.'

I am a freelance science journalist based in Dublin, Ireland. I cover a variety of topics in chemical and biological sciences, as well as science policy, health and innovation.
View full profile