Metalloenzyme mimic combines a guest binding pocket, a well-defined coordination sphere and an internal base to achieve impressive catalytic control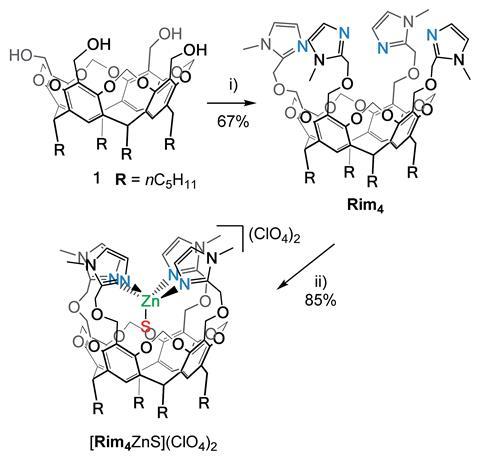 Scientists in France have created a supramolecular system that imitates the environment of an enzyme's active site more accurately than ever before.
'An enzyme is like a huge castle, where the active site can be compared to the kitchen. In the kitchen you have many tools to cook something,' explains Olivia Reinaud at Paris Descartes University. 'We want to understand what tools are used, and how it [the substrate] is cooked.'
Now, Reinaud and her research group have made an artificial complex to help tell a more detailed story of the sophisticated internal structure of nature's enzymes. This artificial Zn(II) complex is equipped with four imidazole arms.
To make the complex, they first synthesised a new ligand named Rim4. Rim4's structure is based on a resorcinarene-based tetra(imidazole) ligand and forms a bowl structure due to methylene bridges strategically placed between the resorcinol units. They fixed a tetra(imidazole) coordination core on the large rim of the bowl so Zn(II) complexes could be formed. The Rim4–Zn(II) complex mimics the architecture of a metalloenzyme and goes a step further than the group's previous mimic, Rim3, by having a 4th imidazole arm that can act as an internal base for catalysis. Lots of enzymes need a base to be positioned close to a substrate for effective catalysis and Rim4 provides the perfect environment by positioning the base and a guest substrate in close proximity, whilst providing a biomimetic coordination sphere. The Rim4–Zn(II) complex was used for the hydration of acetonitrile to demonstrate its catalytic reactivity.

'Functionalised concave surfaces are hard to synthesise, but this feature appears to be the secret to enzyme-like behaviour,' comments Julius Rebek, an expert in molecular recognition and catalysis at the Scripps Research Institute in the US. 'The molecule that Reinaud has constructed offers hope that other catalysts for difficult reactions can be developed through supramolecular approaches.'
The team plan to advance this work by further tuning the macrocyclic structure to enhance the catalytic activity of the system. Reinaud says she dreams of discovering new reactivity patterns using the insights gained from these complexes.
References
This paper is open access
A Parrott et al, Chem. Sci., 2018, 9, 5479 (DOI: 10.1039/c8sc01129j)