Ring vaccination strategy could halt disease in its tracks provided health systems can cope
The government of the Democratic Republic of Congo (DRC) has started to vaccinate high-risk populations against the Ebola virus following a fresh outbreak of the disease – the ninth Ebola outbreak in the country. The vaccine has yet to be licensed but was found safe to use in trials in 2016.
The World Health Organization (WHO) has reported 53 suspected, probable and confirmed Ebola cases and 25 deaths as of 29 May in the DRC. Most of the cases are in Bikoro, a remote rural town, but there are four confirmed cases in Mbandaka, a city with one million people and a transport hub on the River Congo, prompting fears that the virus could spread further.
International agencies reacted swiftly and dispatched more than 7500 doses of the rVSV-ZEBOV Ebola vaccine. 'Vaccination will be key to controlling this outbreak,' says Tedros Adhanom Ghebreyesus, WHO director-general. The plan is to use 'ring vaccination', which involves identifying and offering the vaccine to contacts and contacts of contacts of anyone likely to be infected. This forms a buffer of immune individuals to prevent the spread of the disease. The vaccination campaign will operate under clinical protocol – similar to a clinical trial – that requires trained medical staff and informed consent.
'Implementing the Ebola ring vaccination is a complex procedure,' says Matshidiso Moeti, WHO regional director for Africa. 'The vaccines need to be stored at a temperature of -60 to -80°C so transporting them and storing them in affected areas is a major challenge.' The WHO has sent special carriers, which can keep their contents at sub-zero temperatures for up to a week and has set up freezers to store the vaccines in Mbandaka and Bikoro.
Vaccine successes
'Had a vaccine been available earlier alongside other critical public health interventions in the devastating epidemic of 2014–2016, thousands of lives might have been saved,' comments director of the Wellcome Trust, Jeremy Farrar. 'Thanks to rapid national response and global collaboration, this time around we are in a better position to protect the communities at risk and health workers. But this will be an incredibly challenging operation, across a vast area and fragile health systems, and cannot be limited to deployment of vaccines.'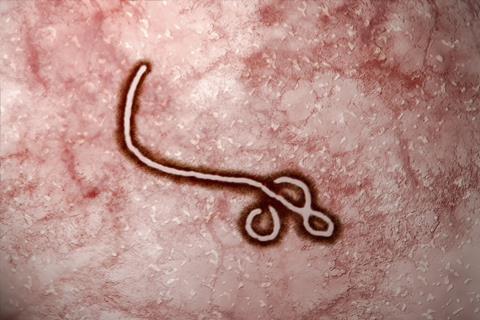 The vaccine, manufactured by Merck & Co as V920, uses a genetically engineered version of vesicular stomatitis virus, an animal virus that primarily affects cattle, to carry an Ebola virus gene insert. Trials using ring vaccination with V920 in Guinea in 2015 showed that it provided substantial protection and was safe for use. Among the thousands of people who received the vaccine, no Ebola cases were recorded nine days or more after vaccination.1
The vaccine has gone through Phase III trials but has not yet been licensed by relevant regulatory authorities. Merck, which is co-developing V920 with NewLink Genetics, plans to release data from Phase III trials later this year. While the vaccine is awaiting review, the WHO recommended its use under its emergency use and assessment listing during Ebola outbreaks linked to the Zaire strain, such as the one in the DRC. In addition, Merck reached an agreement with the vaccine alliance Gavi to ensure that 300,000 investigational doses of the vaccine are available in case of an outbreak. It is these doses that are being used in the DRC.
Other options
Several other vaccines are also in development, including candidates from Johnson & Johnson and GlaxoSmithKline. GSK's vaccine has been through Phase II trials, but did not complete Phase III efficacy testing. The company says it has stockpiled doses and is closely monitoring the current situation. GSK also has earlier stage vaccine candidates and therapeutics to treat the disease. There are also more than 10 programmes in preclinical development.
Johnson & Johnson with Bavarian Nordic are developing a two-dose vaccination approach. There are 11 Phase I, II and III clinical studies underway into Ebola therapies at present. Final clinical data from a Phase I vaccine study conducted in the UK were published last March.2 In September 2016, the company applied for emergency use permissions from the WHO, which is still under review.
Meanwhile, Chinese regulators approved an Ebola vaccine in October 2017 that was co-developed by the Bioengineering Institute of the Chinese Academy of Military Medical Sciences and private drugmaker Tianjin CanSino Biotechnology who reported encouraging Phase II trials.3 CanSino has used a freeze-drying technique known as lyophilisation to prepare the vaccine so it can be stored at 4°C for long periods of time, and remains stable at 37°C for about three weeks. This means it could be more suitable for conditions in countries like the DRC where the healthcare system is often fragmented.
In addition to vaccines, drug treatments are also under development. The US company Mapp Pharmaceuticals is working on ZMapp, a cocktail of three monoclonal antibodies that work together to neutralise the virus. ZMapp, developed after analysis of the blood of an Ebola survivor, has yielded promising safety and efficacy data from animal models and a Phase II clinical trial conducted during the 2013–2016 outbreak in west Africa. The company says ZMapp is being made available to patients in west Africa, if requested.