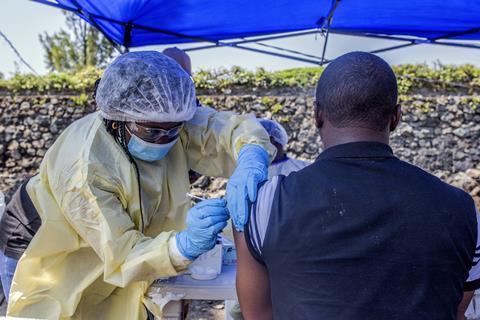 The European commission has approved Merck's ervebo vaccine to help to prevent the spread of Ebola. Ervebo was developed in response to the 2014 outbreak that affected several countries in West Africa, resulting in more than 11,000 deaths. It is the result of an international research effort, with financial backing from numerous public health bodies.
Ervebo is a genetically engineered, attenuated vaccine that protects against Ebola with just a single dose. The vaccine was found to be safe following clinical trials involving 16,000 people across Africa, Europe and the US. It has already been used during the ongoing outbreak in the Democratic Republic of the Congo to protect people at high risk of infection, including healthcare workers and people who have come into contact with infected patients.
Following the commission's ruling the vaccine will be available to adults in all 28 EU countries, as well as Iceland, Liechtenstein and Norway. The approval was granted less than four weeks after a recommendation from the European Medicines Agency, following an accelerated process. The vaccine is currently being reviewed by the US Food and Drug Administration, with a ruling expected in March next year.
Merck plans to begin manufacturing the vaccine in Germany, with doses available for use from the second half of 2020.

Jamie Durrani is senior science correspondent for Chemistry World. He reports on the latest chemistry research and related topics including environment, energy and science policy.
View full profile