Waters' materials synthesis lab manager Darryl Brousmiche outlines the benefits of using the Acquity Advanced Polymer Chromatography (APC) system in polymer R&D.
Brousmiche knows that gel permeation chromatography (GPC) – also known as size exclusion chromatography (SEC) – has long been the go-to technique in determining polymer molecular weight distributions (MWD). But, he says, its separation speed is limited by the GPC's inherently low maximum operating pressure.
Waters' use of hybrid particle technology is key to the increased speed, resolution and flexibility of polymer separations its Acquity APC system delivers. The APC's hybrid column particles enable ultra-high-performance size exclusion chromatography for the analysis of polymers. That combination of speed and resolution improvements for low molecular weight polymers allows quick, reliable characterisation in the development process, which can fast-track new polymers to market.
Bye bye band spreading, farewell shrink and swell
The lower dispersion of Acquity APC system means less band spreading, and its narrow standard peaks are sharper than those delivered by conventional GPC systems. Additionally, APC technology uses 1.7 and 2.5 micron ethylene-bridged hybrid, or BEH particles, as the base media. Synthesised from high purity monomers, BEH particles mechanically strong, exhibit excellent chemical stability and demonstrate low silanol activity.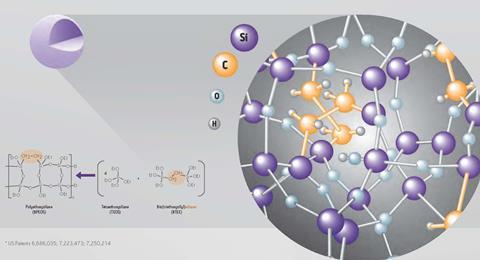 Out pacing polymeric stationary phase techniques
The combination of optimised pore volume and particle size allows Acquity APC columns to deliver in terms of speed, resolution and chromatographic efficiency. As the base media, the column's rigid BEH particles eliminate the shrinking and swelling that solvent switching is known to trigger. Minus that problem, chemists are provided greater flexibility for method development and are able to characterise a more diverse range of polymers.
In fact, every step of our column manufacturing process – from raw material characterisation to final batch analysis – is monitored and tightly controlled to deliver unmatched product reproducibility.
Optimum calibration standards
Waters specifically designed its calibration standards to match the molecular weight range of the Acquity APC XT columns. Because the standards provide the right number of data points for the targeted MW range, there is no need to manually prepare custom calibration mixes.
APC particles are prepared with two surface chemistries: An unbonded material, APC AQ is designed for use with aqueous soluble polymers. The trimethylsilyl-bonded (TMS) material APC XT, is designed for use with organic soluble polymers.
Comparison of the graphs below indicates faster analysis times and better resolution of a bisphenol‐a epoxy using the Acquity APC system compared to conventional GPC.
Streamlined process monitoring drives innovation
The advantages include faster polymer sampling timeframes, better characterisation and more information to draw on, all of which translate to faster R&D. Reduced solvent use dramatically cuts the analysis cost per sample and is more sustainable too, making the Acquity APC an essential lab asset.
In partnership with Waters Corporation, we've put together a bundle of free resources to support the precision polymer analysis collection.

Waters Corporation is a global leader in analytical instruments and software that has pioneered chromatography, mass spectrometry, and thermal analysis innovations serving the life, materials, and food sciences for more than 65 years.
View full profile