Radleys' compact reaction station brings accurate temperature control to chemical scientists managing small-scale experiments
Gone are the days when the only way to accurately control the temperature of reactions was to work with jacketed lab reactors on a large scale. The lack of correlation between small-scale experiments performed on hotplates (or similar heating-only devices) and their scaled-up version is no longer an issue. The Mya 4 Reaction Station – developed by chemistry equipment manufacturer Radleys – offers precise temperature control, in four independent zones for volumes of 0.5 – 200ml in one benchtop unit.
Without accuracy of temperature, you cannot conduct a successful DoE exercise

Johnson Matthey senior development chemist Timothy Davies
Development chemists at Johnson Matthey (JM) spotted subtle, yet statistically meaningful, differences in impurity profiles when studying the key processing parameters in the production of active pharmaceutical ingredients. They realised the cause was the lack of consistency of temperature profiling provided by the parallel reactor they were using.
'Without accuracy of temperature, you cannot conduct a successful design of experiment (DoE) exercise,' says Timothy Davies, senior development chemist at JM.
Johnson Matthey's impurity profiles fixed by Mya 4
Despite consistently setting the temperature to 55.0°C, the development team's prior setup would show reaction temperature variations between 51.2 – 55.3°C over eight identical experiments. This led to an unwanted impurity content (at the end of the reaction) of between 1.98 – 3.23%.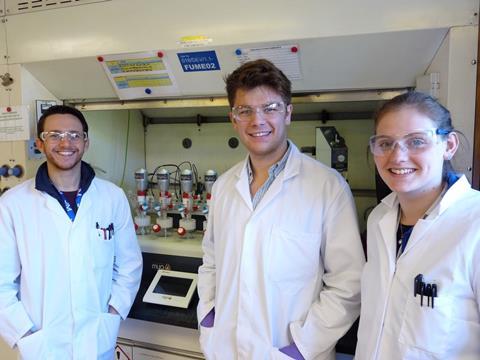 Performing the same experiments in Mya 4, the reaction temperature was controlled accurately at 55⁰C across four repeats, which led to a lower and much more consistent impurity content profile at 1.84 ± 0.07%. With temperature being the most significant variable to affect impurity profiles in JM's experimental studies, it had proven difficult to quantify the effect of other variables – such as stirrer speed and reagent stoichiometry. 'The precision of temperature control provided by the Mya 4 has been essential to understanding key processing parameters of temperature sensitive experiments. It is allowing us to improve our understanding of current manufacturing processes,' adds Davies.
Bridging the gap: R&D and mass production
Since installing their Mya 4 Reaction Station, the JM development team has obtained reproducible, reliable and meaningful results thanks to accurate and consistent temperature control. This upgrade in equipment is also allowing the development chemists at JM to carry out DoE exercises on a smaller scale, which was not previously achievable.
Identifying a key parameter to improve on a small scale can have a significant impact at manufacturing scale

Timothy Davies
The link between process R&D and manufacturing is crucial, whether the process chemist is working on small-scale processes which will be applied on a manufacturing scale or studying existing manufacturing processes in the lab to better understand key reaction parameters. Achieving similar conditions, on small to large scale, is vital.
'If we can get better experimental data and identify a key parameter to improve on a small scale – such as better temperature control – which will have an impact on manufacturing scale – such as a 5% increase in yield, this also helps justify capital expenditure in the production facility,' says Davies.
With Mya 4, Purolite gets it right
The R&D team at resin manufacturing company Purolite Life Sciences resolved several small-scale temperature-control issues since opting for Mya 4. The upgrade not only improved the reliability and efficiency of the team's small-scale work, it has enabled the completion of projects Purolite was previously unequipped for.
I would have loved one two years ago and used it as the workhorse for most of the project

Purolite R&D manager Patrick Gilbert
Purolite R&D manager Patrick Gilbert's lab focuses on the functionalisation of resins with biomolecules, which are highly sensitive to temperature fluctuations. Because of this, the team required a more reliable form of temperature control to replace hotplates and water/oil baths. On a large scale, the same group is used to using jacketed lab reactors and getting reliable, reproducible and scalable results.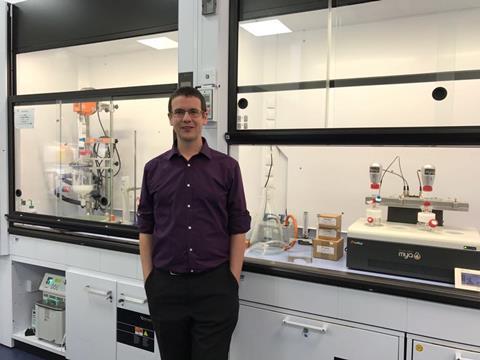 'Mya 4 fulfils the need of a multipurpose small-scale reactor system that is not over-specified. The fact that the unit is so versatile is a strong advantage,' says Gilbert. 'On previous systems I've looked at, flask sizes were limited to one or two options. I would have loved one two years ago so I could have used it as the workhorse for most of the project.' Within a few weeks of being installed, Mya 4 was already making a huge difference in Purolite's lab. Used daily for R&D work, Mya 4 supports critical projects including a multi-stage activation reaction at 40°C, with an exotherm which lasts about 10h. Mya 4 is also being used in an application to immobilise a protein on the surface of a resin at 30°C. With its limited temperature window to avoid denaturation and proximity to ambient temperature, it proved a difficult application before Mya 4 (see Mya 4 versus round bottom flask in water/oil bath box below). With experiments now directly scalable to pilot plant scale but also performed in smaller batches, this means lower cost and less waste for Purolite.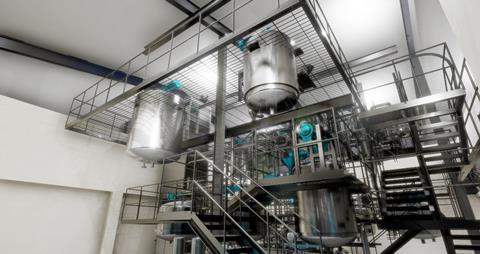 The Mya 4 Reaction Station helps chemical scientists in a wide range of applications globally. One US cannabinoid research company's R&D senior process development chemist says, 'We do a lot of reaction optimisation work (different catalyst loads, different temperatures, etc) and recently had to do a crystallisation optimisation that required carefully controlled cooling ramps – all this was a breeze with the Mya 4 and made our research progress much quicker.'
With the precise temperature control of a jacketed lab reactor but on a smaller scale, Mya 4 helps a wide variety of chemists requiring precise temperature control on working volumes up to 200ml.
Mya 4 versus round bottom flask in water/oil bath
Small-scale experiments mimic litre to pilot scale work, which allows for DoE exercises
Overhead stirring use (not magnetic stirring) – greater correlation with scaled-up experiments
The ability to handle exotherms – hotplates do not offer active cooling
Automated logging prevents data loss
Mya 4 makes lab life a breeze
Mya 4 is allowing chemists around the world to obtain reliable, reproducible and scalable results. Radleys is offering face-to-face and online demonstrations of this innovative piece of lab equipment, allowing end users to determine for themselves how it could improve their work, including streamlining operations and reducing cost and waste. You can book your own demo by clicking here.
In an era of increased productivity and streamlined processes through automation, Mya 4 is playing its part

Radleys' Mya 4 product manager Keren Abecassis
Radleys' Mya 4 product manager Keren Abecassis is pleased to see the positive impact the reaction station is having in customers' labs. 'Making chemists' lives easier in the lab is our main goal at Radleys, and Mya 4 is doing just that,' Abecassis says.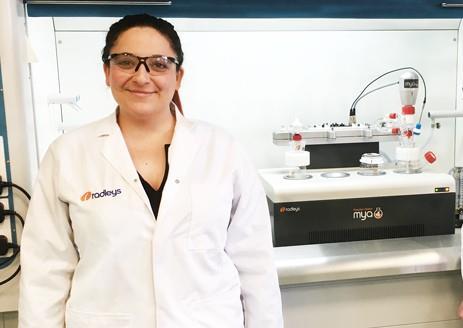 'From R&D chemists in the pharmaceutical industry, to chemists developing new materials for the energy sector, Mya 4 is making a difference to their work when accurate temperature control is essential,' she adds. 'In an era of increased productivity and streamlined processes through automation, Mya 4 is playing its part, offering the option of 24/7 unattended chemistry with accurate temperature control. I'm delighted at how Mya 4 has contributed to the success of my fellow chemists, and excited about the future of the product.'
Mya 4 is a four-zone reaction station that offers precise heating, active cooling, software control and data logging for 24/7 unattended chemistry.
This innovative reaction station provides ultimate flexibility: independent control over four zones with temperatures ranging from -30°C to +180°C, a wide choice of vessels from 2ml to 400ml and the option of magnetic or overhead stirring.
Mya 4's application range includes:
Exothermic reactions – which require active cooling
Study of parameters other than temperature – which require reliable and reproducible temperatures
Work with temperature-sensitive materials (eg biomolecules) – which require tightly controlled temperatures
Experiments requiring slow cooling or heating ramps
To book your free demonstration and find out what else Mya 4 can do, please click here.

World leaders in innovative productivity tools for chemists, Radleys provide innovative chemistry equipment for safer, cleaner, greener and more productive chemical research. Customers include leading blue-chip industrial and academic research facilities around the world. Areas of expertise are focused on equipment for chemical synthesis and process development.
View full profile