International accords including Covax aiming to ensure equitable distribution to poorer countries
It will be months (at best) before we know if any of the vaccines being developed to protect us against Covid-19 are going to be effective, but the wealthiest nations are committing billions of pounds to secure access to them.
There are 36 candidate vaccines in human trials, with nine already in phase 3 trials with tens of thousands of volunteers. These frontrunners employ five different approaches, from established mechanisms using weakened or inactivated versions of the virus; to new technologies that introduce snippets of the virus genetic material into human cells, where they make proteins that mimic it. Another 146 vaccine candidates are in animal trials.
To speed up availability, pharmaceutical companies have begun manufacturing in parallel with clinical trials, rather than waiting for their outcomes and regulatory approval – a process that would otherwise take years. While that adds significantly to overall development costs, those costs pale into comparison with the pandemic's global economic and health impacts.
AstraZeneca (AZ), which has the exclusive license to make a vaccine developed by the University of Oxford, UK, has signed deals to supply more than two billion doses. It's scaling up its own manufacturing capacity as well as contracting with organisations in India, Latin America and China to make approaching three billion doses by the end of 2021. AZ says it is committed to broad and equitable access to the vaccine, although distribution is up to individual governments.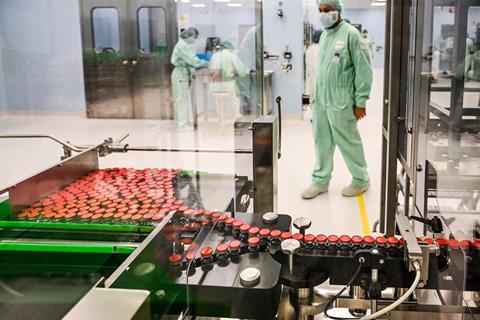 Another contender, US-based biotech Moderna – working with the US National Institutes of Health – is developing what would be the first ever mRNA vaccine. It has signed deals to supply at least 276 million doses of its vaccine across the EU, Japan, Canada and the US. Through its multi-agency operation Warp Speed, the US government also has an option for another 400 million doses, assuming the vaccine gets regulatory approval. Alongside, Moderna has negotiated manufacturing capacity so supply can begin this year.
US-based Pfizer is working with Germany's BioNTech on another mRNA candidate and has agreed to supply 270 million doses across the UK, US, Japan and Canada. The partners plan to make 100 million doses by the end of the year, and 1.3 billion by the end of 2021. On 18 September, the European commission signed a deal with Sanofi and GlaxoSmithKline (GSK) for 300 million doses of their recombinant DNA vaccine. An upfront payment of €324 million (£297 million) will support manufacturing scale-up in Europe. The commission says vaccines will be distributed to member states based on population size.
Well-off nations are hedging their bets, to make sure their citizens get early vaccine access. The UK alone has options on 340 million doses from a mixture of frontrunners and less advanced candidates – including French group Valneva's, which won't go into clinical trials until the end of the year.
Company

Platform

UK
US
EU
Canada
Japan
Others

AstraZeneca/ University of Oxford

Adenoviral vector

100m
300m (£930m)
300m (+100m option)
120m
Australia 33.8m;
CEPI/Gavi: 300m (£584m);

BioNTech/Pfizer

mRNA

30m
100m (£1.5bn)
+ 500m option
20m
20m

Johnson & Johnson

Adenoviral vector

30m

100m (£780m)

200m*
38m

Moderna

mRNA

100m (£1.2bn)
+ 400m option
80m*
56m
40m*

Novavax

Protein + adjuvant

60m
76m

Sanofi/GSK

Protein + adjuvant

60m

100m (£1.6bn)

300m

Valneva

Inactivated virus

60m (£430m)
+ 130m option
* in negotiations
AZ manufacturing
agreements

Adenoviral vector

India: 1bn; Brazil: 110m (£280m); Latin America: 150–250m; China: 200m; South Korea: 100m
Ensuring there is ample supply for the rest of the world is a complex problem. World Health Organization (WHO) secretary general Tedros Adhanom Ghebreyesus has expressed concern that 'excess demand and competition for supplies is already creating vaccine nationalism and price gouging'. The WHO has had to rethink its risk-sharing Covax initiative – which aims to pool global resources to get two billion doses of approved vaccines by the end of 2021 – after the US refused to sign up, and others delayed. By paying more up front, richer countries now get to choose which vaccines they want.
Ideally you would have one global allocation mechanism – unfortunately that is not likely to happen
The UK signed up at the last minute, meaning 64 self-financing nations will contribute, with another 38 expected to sign. Gavi, the Vaccine Alliance, which is co-leading the initiative, said it would now start signing formal agreements with vaccine developers. Covax is supporting research, development and manufacturing of vaccines, as well as negotiating their prices, and hopes to have at least three safe and effective vaccines to offer. So far it's raised $1.4 billion (£1.1 billion, including £250 million from the UK government) to support R&D, but requires another $800 million.
As vaccines become available, they would be distributed equitably until every country has enough for 20% of their population, to cover priority groups like healthcare workers. It's not clear how that allocation will happen in practice, or how much the vaccines will cost, but countries will be able to opt out if prices are more than double what was expected. Thomas Cueni, director general of the International Association of Pharmaceutical Manufacturers and Associations, told a recent panel organised by European Health Forum Gastein that 'ideally you would have one global allocation mechanism – unfortunately that is not likely to happen … and of course, vaccine manufacturers have to respond to where do they get the support, where they get the orders from'. He added that 'you need a mix of rich country solidarity with poor countries – only then will we be able to meet that objective of … a minimum of two billion, hopefully three billion [doses]'.
A separate mechanism aims to raise $2 billion by the end of the year for the 92 low- and middle-income countries (such as Afghanistan and Yemen) that cannot fully fund their vaccine requirements. However, by mid-September just $700 million had been pledged, leaving it unclear how much those countries will be asked to pay. The European commission has promised €400 million to the initiative, and stressed it wants manufacturers it contracts with to commit to providing future doses through Covax. The EU's deals will also enable member states to donate some of their contracted supplies to low- and middle-income countries.
China has been engaging in its own vaccine diplomacy outside of Covax. It has four candidates in late stage trials, and is offering loans to Latin American and Caribbean nations to buy its vaccines; while promising priority access to others, such as the Philippines. However, phase 1 trials in Canada of CanSino's candidate had to be abandoned after the Chinese government refused the company permission to ship the vaccine.
When we started talking with companies, some asked us for more than $100 per dose
One of the hallmarks of deals struck between governments and companies is a lack of transparency. Companies haven't clearly disclosed what they'll be paid, in spite of a hefty commitment of public funds to their vaccine endeavours. 'Perhaps what's so particularly stinging about that lack of transparency, is that some of these initiatives were launched with transparency cited as a key principle of their efforts, and it just hasn't been upheld,' says Kate Elder, senior vaccines policy adviser at Médicins Sans Frontiers (MSF). 'That's not in the interest of equitable access for countries in the future – it's terribly disappointing.'
'So the European commission is negotiating as a bloc with industry – are they communicating the prices that industry is quoting them to Gavi, which is also negotiating with the same companies? Because [otherwise] they could be inadvertently working against one another and driving up the prices.' AZ and Johnson & Johnson have said they won't seek to make a profit on their vaccines during the pandemic, but Elder wants them to substantiate that commitment by setting out their costs, and the funding they've received.
Thomas Triomphe, executive vice president for vaccines at Sanofi, told the European Parliament committee on health that his company will make the prices of its vaccines public, but the cost will depend the number of doses required and yield from the manufacturing process. Under Sanofi's deals, doses have been reserved, not bought outright, to ensure manufacturing can start at scale. Countries will only take what they need and not necessarily the full amount of reserved doses, Triomphe explained.
Knowledge Ecology International (KEI), a Washington, DC-based group that advocates for better use of knowledge, complained that Moderna hadn't acknowledged that its vaccine development was funded by US government agencies. Moderna is one of seven companies that have received a combined $10 billion in funding from the US government. On top of its almost $1 billion in research funding, the company has a deal worth up to $1.5 billion to supply 100 million doses – around $15 a dose. 'You'd think a pandemic would require the most transparency: everyone has a stake in knowing what's going on,' says KEI director James Love. 'People funding research have also failed to require companies to share their knowhow globally, so you can have the maximum amount of capacity to manufacture as fast as possible, and the lowest prices by having competition.'
Pfizer's US deal puts its vaccine at $19.50 per dose; while AZ's deal with the Coalition for Epidemic Preparedness Innovations (CEPI) and Gavi works out at $2.50 per dose. The European commission agreed a €336 million downpayment, but what it will ultimately pay for its first 300 million doses is unclear. However, Sandra Gallina, the commission's deputy director-general for health and food safety, told a parliamentary committee that the EU would be paying €5–15 per dose. Clemens Auer, who is negotiating for the 27 EU member states, told the Gastein panel that 'when we started talking nationally, bilaterally with companies, some … asked us for more than $100 per dose'.
Another sticking point in the EU negotiations has been the question of liability. No vaccine is going to be 100% safe. And no vaccine will ever have been made so quickly. 'If you move from phase 3 with 30,000 [people] to hundreds of millions, you will have adverse reactions and potential litigation,' said Cueni. However, 'limited liability does not mean you are exempted if you do something sloppily or do something wrong'. But the commission has insisted there would be no change to current legislation – if something goes wrong manufacturers can be taken to court, Gallina told MEPs.
All the manufacturing of candidate vaccines is 'at risk' – if a vaccine doesn't work, the doses that have been made are wasted. Adar Poonawalla, chief executive of the Serum Institute of India, which AZ has contracted to make 1 billion doses for low- and middle-income countries, told the BBC it would cost $400–450 million to make the vaccine. If it fails, they'll have wasted about $100 million, but the plant and equipment can be repurposed for another vaccine.
How easy would it be to pivot? Take the two leading mRNA vaccine developers, suggests Prashant Yadav, an expert in healthcare supply chain management at the Centre for Global Development in Washington, DC, US. 'Imagine a scenario in which one of them has a successful vaccine and the other has an unsuccessful mRNA. The world would benefit by reconfiguring all of the capacity for the failed candidate and make it available for the successful one. That is easier said than done.'
Intellectual property, the nature of any contracts in place and the interchangeability of manufacturing steps all have a bearing. A new process configuration will take time to set up. 'Can we start making plans for it now? It's difficult to ask the manufacturer and the contract manufacturer – already scaling up to make one billion doses – to also get ready for the eventuality that you have to make something else instead.' The trial results may not be clear-cut either, and a manufacturer might not be willing to reconfigure. 'The more we can produce of the successful candidates, the better off we are,' Yadav says. But at the same time, manufacturers' incentives are aligned to deliver their own vaccine, not just whichever vaccines are successful.
Other issues are availability of adjuvants (used to boost the immune response) – some of these come from naturally occurring substances, and can't yet be made synthetically. Then there are the logistics of vaccine distribution: nucleic acid vaccines require ultra-cold storage, which will make distribution challenging, even in the developed world. Even getting enough glass vials to fill with vaccines is going to be a challenge. It's clear that having a successful vaccine get through trials and regulatory hurdles won't be the end of the story.
Angeli Mehta is a freelance science writer with a research PhD, based in Edinburgh, UK
View full profile