Mutated haem proteins make light work of synthesising bicyclobutanes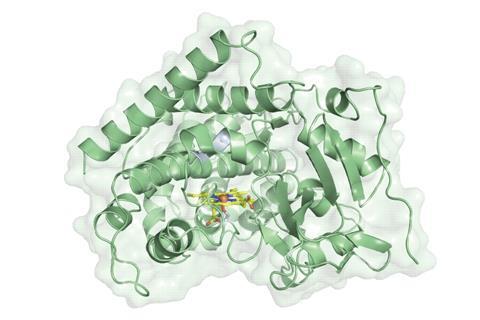 Scientists have redesigned haem proteins into a biocatalytic machinery for making some of the most strained molecules, bicyclobutanes and cyclopropenes.
Given that these compounds have some of the highest ring strains among small carbocycles, it is easy to see why they are hard to synthesise. Making bicyclobutanes usually involves difficult-to-work-with organolithium reagents as well as rigorous exclusion of any air and water.
But a team of researchers led by protein engineering pioneer Frances Arnold from the California Institute of Technology, US, has designed an enzyme that takes this tough synthesis in its stride. After recently creating enzymes that catalyse cyclopropanations, the researchers' new biocatalysts reacts one or two carbynes with a carbon–carbon triple bond to make cyclopropenes or bicyclobutanes – reactions that don't occur in nature.

The biocatalytic proteins are versions of haem, a metalloenzyme with a central iron–porphyrin complex. In humans and other mammals, the haem protein haemoglobin in red blood cells delivers oxygen from the lungs to tissues all over the body.
Arnold's team used a bacterial haem, altering the amino acid residues around the protein's active site through directed evolution until they found a variant that excelled at the reactions. The evolved protein even carries out the reactions in a chiral manner: cyclopropenes are produced almost exclusively as a single enantiomer, and the bicyclobutane reaction is the first to result in exo-endo configured rings.
Since the biocatalysts can handle diverse starting materials – 25 different compounds were synthesised – the researchers hope that their evolved enzymes could make strained ring synthesis more accessible.