Treatment neutralises venom, reducing tissue damage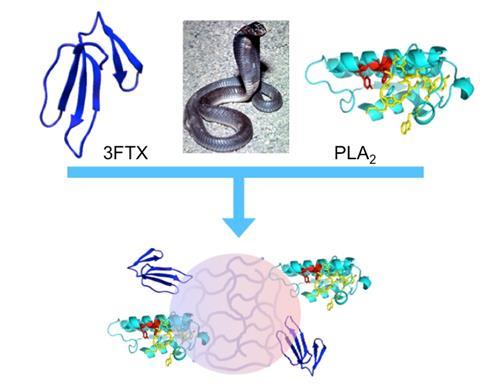 Engineered nanoparticles that bind toxins in snake venom could provide an effective means to treat dermonecrosis caused by many species of venomous snake.
Envenoming from snakes is a global problem that affects over two million people and kills 100,000 each year. The current treatment for snakebites is antivenom containing IgG antibodies from immunised animals – but the narrow specificity of IgG means that it's only effective against closely-related snake species. Treatment administration is also frequently delayed, which hampers the effectiveness of the antivenom and can cause permanent tissue damage in victims.
Researchers from the University of California, Irvine, in the US, have discovered a cheap stable alternative in the form of synthetic polymer nanoparticles that can be administered immediately after a snakebite. These nanoparticles bind to and sequester isoforms of phospholipase A2 and three-finger toxin found in the venom of Elapidae snakes, a deadly family that includes cobras and mambas. By screening and selecting those with the highest affinity for the target toxins, the researchers obtained nanoparticles with optimal chemical composition for binding.
The new broad-spectrum treatment effectively neutralises the venom's effects by preventing or reducing local tissue damage. It also stops the toxins from spreading to other parts of the body after envenoming and wasn't seen to trigger any toxicity in healthy mice.