Industry focus turns to sustainability amid rising economic pressures and political uncertainty
Trade tensions
Escalating global trade tensions and a weakening economy hit business confidence and held back chemical demand this year. Trade disputes between the US and China already rattled industry throughout 2018 but evidently took their toll in 2019. So far the US has imposed tariffs on Chinese imports worth more than $360 billion (£296 billion) per year, and China has retaliated with tariffs on more than $110 billion-worth of US products, trade in chemicals and plastics is affected in both directions.
Chemical companies have watched profits stumble as the trade war depressed prices across the global chemical market. In July, Dow cut its 2019 spending by 25% ­– a move that was 'largely driven by geopolitical volatility and prolonged trade negotiations,' chief executive Jim Fitterling said on a conference call. BASF in the same month forecast a 30% fall in 2019 operating profit, reversing an earlier estimate of a rise. In the first quarter of 2019, BASF's net income (EBIT) had slumped by a quarter to €1.7 billion (£1.5 billion). As a consequence, the company plans to cut 6000 jobs by the end of 2021.
In parallel, the chemical industry was affected by weakening automotive markets. Global car sales are expected to drop by 4% this year. In the UK, the car industry witnessed its worst period of decline since 2001, with production down 14% on 2018.
Although the first tentative steps towards a US–China trade deal are now in the offing, president Trump has also threatened Argentian and France with new tariffs. These relationships are unlikely to recover quickly, and nor is the automotive sector. The American Chemistry Council (ACC) warned that 'if this tariff dispute becomes a war of attrition, it has the potential to last for years, only doing more harm than good – to both sides.' Nonetheless, the trade body was cautiously optimistic in its chemical activity barometer for November, which said trends in construction-related resins, pigments and related performance chemistry were 'slightly positive'.
The German Chemical Industry Association (VCI) spoke of a dire year for the industry, with VCI president Hans Van Bylen describing the situation as 'currently not easy'. The VCI's most recent quarterly report said production in chemicals – the third largest industry in Germany – dropped again from July to September compared to the previous quarter. Sector sales deteriorated significantly as the price of chemicals also declined.
Brexit ups and downs
Continuing uncertainty over the UK's exit from the EU – or 'political fluidity', as a Health and Safety Executive (HSE) expert politely put it at a Brexit chemicals event in October – was sure to keep industry on its feet.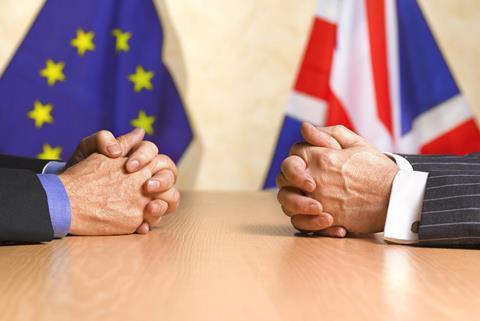 In March 2019, former prime minister Theresa May and European leaders negotiated a fortnight's delay for the UK parliament to ratify the government's proposed Brexit withdrawal agreement, moving the original exit date of 29 March to 12 April. On 10 April, a further half-year extension was agreed between the UK and the EU, until 31 October 2019.
During this time, firms were urged to prepare for a no-deal exit, with the European Chemicals Agency (Echa) and UK trade bodies ringing alarm bells that around 48% of UK chemical companies had not transferred their Reach registrations to EU-based entities, and risked becoming void under a no-deal scenario.
In October, the sector cautiously welcomed prime minister Boris Johnson's efforts to secure a tweaked Brexit withdrawal agreement and future political declaration. The deal – with its commitment to a free trade agreement avoiding tariffs and non-tariff barriers – represented 'an opportunity that we must now grab hold of,' said Steve Elliott, chief executive of the UK Chemical Industries Association (CIA), at the time.
But on 28 October 2019, with the deal rejected by the UK Parliament, the exit date was moved back to 2020. At the time of writing, the UK is due to hold a 12 December general election. Ahead of it, the Conservative party has pledged to 'get Brexit done' by the new deadline of 31 January (although as commentators have pointed out, agreeing the future terms of the UK's relationship with the EU will take significantly longer). The main opposition party, Labour, has promised a final public vote on any deal, and the third-running Liberal Democrats aim to stop Brexit.
Now, 'what's really needed is a clear general election result and speedy progress on securing a new trading relationship with the European Union – our most important market', the CIA's Elliott said. In a pre-election manifesto published in November, the CIA reiterates its call for a UK–EU chemicals industry relationship that delivers regulatory consistency and alignment, frictionless free trade and access to skilled people.
Striving for sustainability
Despite worrying economic conditions and political tensions, sustainability has been a hot topic for the chemicals industry in 2019. According to PricewaterhouseCoopers' (PwC's) chemicals trend report, firms this year were most nervous about the impact of resource and materials substitution, decarbonisation, renewable energy and waste elimination.
'These are serious issues, particularly for the chemicals industry, which is at the tip of the spear of questions surrounding the role that fossil fuels and new forms of energy will play in the future, as well as in the mitigation of climate change and pollution,' PwC said. 'How chemicals companies address these concerns will ultimately affect their licence to operate, their marketplace status, their relationships with customers and (…) their ability to grow over the coming years.'
Company actions have mirrored this priority status of sustainability. The year was marked with businesses setting concrete goals around energy, carbon, and waste. Corporate responsibility programmes have shifted in focus to sustainability and the environment. Most recently, speciality chemicals company Lanxess initiated plans to become climate-neutral by 2040 and reduce its greenhouse gas emissions from the equivalent of around 3.2 million tonnes of CO2 to 1.6 million tonnes CO2 by 2030. 'Climate protection is a business case,' said chief executive Matthias Zachert. The VCI declared in October that the industry can 'almost completely' reduce its greenhouse gas emissions by 2050, with the help of new production technologies.
The European Chemical Industry Council (Cefic) said the sector this year 'moved from a mere vision to implementing' the United Nations Sustainable Development Goals roadmap for the chemical industry. The sector's journey toward a successful and sustainable Europe in 2050 is 'to become cleaner, safer and more circular', Cefic promised in its 2019 Sustainability Progress Report.
Closing the circular economy loop
Hand-in-hand with the sustainability focus, the 'circular economy' has come to the fore in 2019 as businesses try to use resources more efficient. In Cefic's vision for 2050, the trade body sees industry investing in chemical recycling across Europe that can absorb valuable materials that are currently wasted, including plastic and polymers. Cefic is working on an industry-wide strategy for managing the risks of substances of concern in a circular economy that it says goes 'through and beyond recycling'.
Companies are already responding to a shift in consumer demand from products that inhibit reuse toward sustainable alternatives. Unilever signed a three-year contract with Veolia to collaborate on circular economy solutions for plastic packaging waste. Eastman invested in a circular recycling technology, which uses methanolysis to break down polyester-based products into their polymer building blocks and reintroduce them in the production of new polymers. The company has also started producing a cellulosic yarn from sustainable wood pulp, which is produced in a closed-loop process where solvents are continuously reused throughout development.
3M has pledged to provide a sustainability value commitment for each new product it launches, many of which are circular economy-related. The move driven by demand, as 'stakeholder pressures aren't going away and it's smart to reinvent our portfolio,' said Gayle Schueller, 3M's chief sustainability officer.
Professional services provider Accenture is encouraging chemical companies to embrace the circular economy as a 'golden growth opportunity'. Its report 'Chemical (Re)action: growth opportunities in a circular economy', says the industry 'is at a tipping point, with disruptive pressures set to drive new business models and value chains, while creating opportunities for those ready to embrace them.'
Changing China
China suffered a tragedy this year when an enormous explosion at an east China chemical plant killed 47 people, seriously injured 90 and put another 640 in the hospital. The disaster happened amid China's ongoing efforts to step up chemical safety and regulation.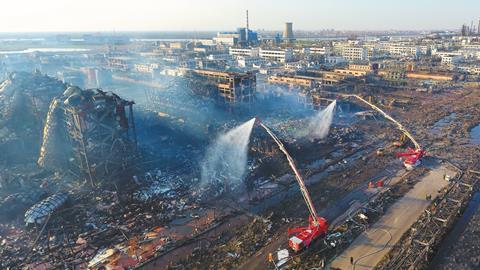 Throughout 2019, China has been working to update its chemical regulatory regime with far-reaching changes that would bring it closer to resembling the EU's Registration, Evaluation, Authorisation and Restriction of Chemicals (Reach) regime and the Toxic Substances Control Act (TSCA) in the US.
China's Ministry of Ecology and Environment (MEE) published a draft Regulation on the Environmental Risk Assessment and Control of Chemical Substances in January, with an update in September. Once agreed, it will become China's overarching chemical framework, sitting above the country's current main chemical law, the Measures for Environmental Administration of New Chemical Substances (MEP Order 7). The draft is similar to TSCA in the US, or Japan's Chemical Substances Control Law, in that it would require pre-market approval of new substances and risk evaluation of certain existing substances.
In July, the MEE also proposed dramatic revisions to MEP Order 7. Although neither proposal has yet been finalised, they demonstrate the Chinese government's commitment to regulating chemicals more strictly, especially those that pose significant environmental and health risks.
Legal battles
Per- and polyfluoroalkyl substances (PFASs) have become a global contamination issue and a source of serious potential liabilities for companies that manufacture, use or sell the resilient compounds. Amid mounting evidence about toxicity and bio-persistence of PFASs, firms like 3M and DuPont have been publicly and repeatedly accused of deliberately hiding or spinning internal research that raised serious concerns about their safety early on. This year, they battled US state-level legal actions and class action lawsuits. Meanwhile, Denmark became the first country to ban PFASs from food packaging.
The US was also battleground for litigation connected to a growing crisis of addiction to opioid medications. An Oklahoma court in August concluded the first case against an opioid manufacturer to reach trial rather than be settled out-of-court. It awarded the state $572 million in damages against Johnson & Johnson for the harm caused by its inappropriate marketing of opioid medications for chronic pain. J&J has appealed that decision. In October, a $260 million settlement between four companies and two Ohio counties averted what would have been a landmark trial aggregating nearly 2000 lawsuits featuring multiple drug companies, distributors and pharmacies.
Bayer, meanwhile, faced its third defeat over Monsanto's Roundup (glyphosate) weedkiller. A California jury ordered the company in May to pay over $2 billion in damages to a couple who both suffer from non-Hodgkin lymphoma (NHL). A judge later slashed that to less than $87 million, ruling that the punitive damage awards were excessive and unconstitutional. Since Bayer acquired Monsanto in June 2018, the number of cases relating to glyphosate herbicides has grown to over 18,000. While the company continues to face the courts, glyphosate is hardly growing in popularity: in July, Austria became the first European nation to outlaw all uses of the herbicide, effective from 1 January 2020, while Germany committed to a total ban by 2023.