Ben Valsler
Earlier this week, Kensington Palace announced that here in the UK we have another royal baby to look forward to, due in spring 2019. And here on Chemistry in its element, Mike Freemantle has been thinking back to the happy couple's big day…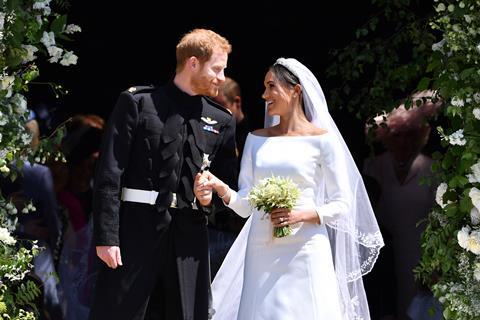 Michael Freemantle
Cast your mind back to Saturday 19th May this year. That was the day Prince Harry, a member of the British royal family, and American former actor Meghan Markle married. During the wedding ceremony at St George's Chapel, Windsor Castle, the American bishop Michael Curry delivered a powerful sermon. He quoted lines from a medieval poem and an old African American spiritual that referred to the balm of Gilead:
'There is a balm in Gilead,
To make the wounded whole.'
In these lines, the balm is employed as a metaphor for the power of love to heal the human spirit. When I heard these lines, I asked myself: what is this balm of Gilead?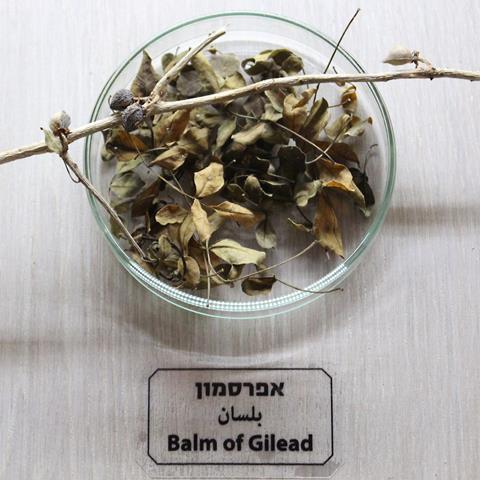 I soon discovered that the balm was an oil that had been used since ancient times as a perfume and as an ointment to heal various physical illnesses. The balm was named after the Gilead region of the Arabian peninsula where it was extracted from plants. The region is now part of Jordan.
There are several references to the balm in the Bible, for example, in chapter 37 of the book of Genesis: '… behold, a company of Ishmaelites came from Gilead with their camels bearing spicery and balm and myrrh, going to carry it down to Egypt.'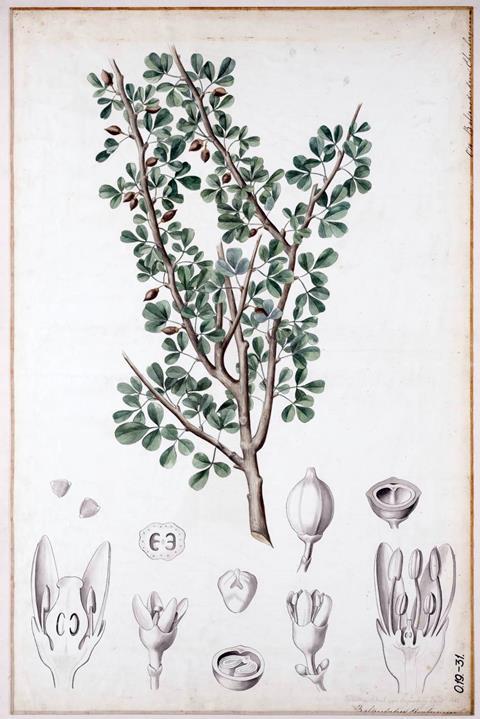 In 2012, a team of scientists in Israel reported the results of research on 'the biblical balm of Gilead,' as they called it. Their aim was to study the anti-cancer activity of the oil, which they extracted from a plant with the botanical name Commiphora gileadensis. First of all, they used gas chromatography and mass spectrometry to separate and identify its volatile organic components. They identified 27 components, the most prominent of which was the hydrocarbon β-caryophyllene. It accounted for just over 20 % of the oil. Their study established that the balm prevented the proliferation of tumour cells and that the key ingredient responsible for this activity was β-caryophyllene.
The compound is ubiquitous in nature and generally occurs in mixtures with other organic compounds. Essential oils extracted from lavender, rosemary, hops, cannabis and especially cloves all contain significant amounts of β-caryophyllene. The compound is also present in the oily resins extracted from many species of pine conifers.
The properties and structure of this naturally-occurring compound have been extensively investigated since the 1830s. However, it was not until 1951 that British organic chemist and chemistry Nobel laureate Sir Derek Barton provided definitive evidence of its molecular structure. The compound has an unusual bicyclic structure for a natural product. Each molecule has a nine-membered ring of carbon atoms, a four-membered ring and two carbon-carbon double bonds. Another chemistry Nobel laureate, the American organic chemist E. J. Corey, reported the total synthesis of the bicyclic hydrocarbon in 1964.
β-Caryophyllene has a spicy woody smell and is generally recognised as a safe dietary supplement and flavouring agent for foods and beverages. Well-documented research studies over recent years have shown that the compound is not only active against cancer but also has a wide array of other medicinal properties. It acts as a pain killer, for example, and also exhibits anti-inflammatory, anti-bacterial and anti-fungal activity.
Last year, another team published a paper on the chemical compositions of essential oils extracted from the stem bark, leaves and fruit of Commiphora gileadensis. The researchers surprisingly found a dearth of β-caryophyllene in the oils, in complete contrast to the findings of the other team, even though both teams had investigated plant samples collected from the same botanical garden in Israel. The second team observed that the chemical compositions of the Commiphora gileadensis essential oils from Israel 'are markedly different from previously reported samples.' So how do you account for the difference? The second team concluded that there must be 'a wide variation of essential oil compositions within the population of this plant.'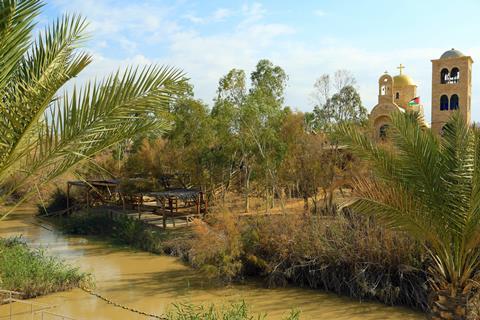 And there is another intriguing question here. Did the ancient Ishamaelites really extract their fragrant healing oil from the plant Commiphora gileadensis? There are claims that their precious balm of Gilead was extracted from a different plant – the mastic tree, known scientifically as Pistacia lentiscus. The plant is indigenous to the Mediterranean region including Israel, Jordan and other Middle Eastern countries. It exudes a pleasant-smelling resin with similar health and culinary properties to the Commiphora gileadensis oil.
Whatever the answers to these questions, there can be no doubt about the health and therapeutic benefits of β-caryophyllene, and the balm of Gilead - whatever its composition and source.
Ben Valsler
That was Mike Freemantle, showing that sometimes science writers can get distracted by chemistry even in the midst of a moving speech at a nationally important wedding. Next week, Kat Arney indicates how misuse of a common, colourful compound can cause catastrophic colonic complaints.
Kat Arney
These imported drinks lacked the deep red colour the people expected, so the authorities decided to add a dash of phenolphthalein to the wine supplies to redden them up. It being the early 1900s, nobody had thought to test whether it was actually safe to use as a food additive first, which might have avoided the unpleasant result: a mass outbreak of diarrhoea.
Ben Valsler
Join Kat next time with the pH indicator you almost certainly used in high school. Until then, you can find all of our podcasts at chemistryworld.com/podcasts, and you can get in touch with any questions or comments – email chemistryworld@rsc.org or tweet @chemistryworld. Thanks for listening, I'm Ben Valsler.