Organisations work towards making billions of doses of products not yet proven to work
Companies are seeking to 'break the world record by a mile' for developing and commercialising vaccines to fight the Covid-19 pandemic. That's according to Rahul Singhvi, a vaccine expert and healthcare investor with US-based venture capital and private equity company Flagship Pioneering. Promises from companies to make vaccines they started developing in March 2020 within 12 months would be highly impressive, Singhvi stresses. But they also bring unprecedented risks of wasted effort – as do similar drug scale-up efforts.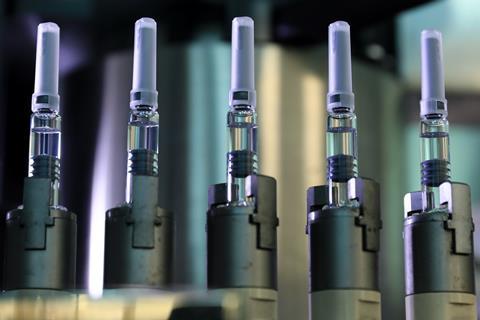 This peril reflects a need so great that the World Health Organisation lists over 100 different vaccine development programmes in progress globally. Singhvi, who until October 2019 was chief operating officer of Takeda Vaccines, notes that speed brings risks. Beyond animal and human tests to prove their products work, companies must still demonstrate consistent, productive manufacturing processes. 'And you're talking about making a billion doses,' he adds. 'Most manufacturers have never done this kind of scale-up. You're doing things for the first time, and then hoping that everything goes right. It's very tough.'
David Reddy, chief executive of the Medicines for Malaria Venture (MMV), is one person who has experienced scaling up medicine production during a virus outbreak. He was pandemic task force leader for Roche, which makes antiviral drug Tamiflu, during the bird flu epidemic of 2009. Reddy notes that the uncertainty faced by drug manufacturers during the current pandemic is even greater. This is not least because we know so little about the most prominent drugs being considered to treat Covid-19.
You're talking about making a billion doses. Most manufacturers have never done this kind of scale-up
Two early front-runners were remdesivir, made by Gilead Sciences, and hydroxychloroquine, a treatment for malaria and some auto-immune conditions. Both have shown evidence for usefulness in treating Covid-19, but these results are being fiercely questioned. And while the latest evidence for hydroxychloroquine suggests is has little benefit and significant side effect risks, suppliers have already invested heavily in ramping up production. 'A lot more has to be done at risk, with significant financial outlays, particularly when you don't even know if your drug works,' Reddy says. 'This is where the regulators really try and work quickly, but you can only make so many shortcuts, because you have to assure an appropriate level of evidence.'
Part of Reddy's 2009 pandemic planning was to establish end-to-end manufacturing in different places, in case lockdowns stopped production in any of them. 'We declared what our key manufacturing steps were and anybody that had capacity was invited to submit an application to us to join our manufacturing network,' he recalls. He notes similarities with how Gilead has given licences to five generic drug companies in India and Pakistan to make remdesivir. They can supply it royalty-free to 127 countries until a different drug or a vaccine is approved to treat Covid-19.
By contrast, although many companies produce hydroxychloroquine, reports suggest that material prices for intermediate substances used in manufacturing have increased at least fivefold. 'Some key intermediates come down to one or two companies based in the same geography, and that's vulnerable, particularly if that's a geography that's being hit,' Reddy says. 'One thing we learned here is that redundancy is critical. There's a price for redundancy, but we need it.'
The manufacturing challenges for existing drugs are underlined by dexamethasone, which has recently shown promise in treating Covid-19 patients on ventilators. There are several manufacturers supplying the drug, and stocks appear plentiful. But demand had already increased before the pandemic, leading at least one US supplier to report a shortage. It's not yet clear how robust the supply chain is, or how rapidly supplies could be increased to meet a likely surge in demand.
Key intermediates come down to one or two companies based in the same geography, and that's vulnerable. Redundancy is critical
Meanwhile, companies must balance pressure to supply the drug to countries where their factories are located with global needs, Reddy adds. Other ethical issues affect scaling up a medicine, he adds, citing Gilead's situation. 'For remdesivir, there's a lot of development expenditures,' Reddy says. 'They have a responsibility as a company to look at pricing that factors in the cost they've incurred.' But so far the company has given away its initial stock for free, which may be down to a surprising consequence of intellectual property (IP) protections offered by patents. 'IP is a privilege, but it has responsibility associated with it,' Reddy says. 'Companies have a lot to lose in terms of reputation. It is a real stimulus to ensure that they act in the most ethically robust way.'
MMV is seeking to help find better Covid medicines by launching a 'Covid box', providing compounds with known or predicted activity against Sars-CoV-2 for testing free of charge. Reddy is also on the board of the Coalition for Epidemic Preparedness Innovations (CEPI), which has invested $446 million (£357 million) in Covid-19 vaccine research, including $384 million in Novavax's recombinant protein vaccine. 'It's a complex and high risk endeavour but we've all seen what it's been like, socially and economically, in the absence of a vaccine,' Reddy says. 'So this is more than worth it.'
Productivity goals
Maria Papathanasiou, from Imperial College London, UK, is examining how vaccine supply chains will need to be agile to meet demand arising from Covid-19, particularly in early stages of any global vaccination programme. 'The first challenge to overcome is developing a viable vaccine and having it pass human trials,' she says. 'Vaccine production normally takes years, but the current crisis means scientists are attempting to fast-track this to 12–18 months. Another challenge is the sheer scale of demand and the short timeframes involved.'
There are four main vaccine technologies being considered for Covid-19. The first uses proteins such as the one that forms the spikes on the Sars-CoV-2 virus. Recombinant versions of these proteins or fragments of them might be made in cultures of mammalian or insect cells. The second uses RNA instructions to trigger our bodies to produce such proteins. The third similarly delivers genetic instructions for viral proteins, but in this case exploits a harmless virus to do so. This includes the chimp adenovirus (ChAd) platform being used by the collaboration between the University of Oxford, UK, and AstraZeneca. The final technology exploits inactivated virus, the most common type of vaccine in development.
Zoltan Kis from Imperial College's Future Vaccine Manufacturing Research Hub notes that RNA and ChAd vector platforms, while very different, share the ability to develop viral vaccine candidates against any disease target. 'Conventional mammalian cell-based vaccine production and purification processes have to be tailored for production of each individual vaccine candidate. RNA and ChAd vector platforms can therefore substantially reduce production time, financial costs, and risks associated with developing and producing a vaccine.' The RNA platform is also especially productive, Kis adds. 'A ChAd vector platform being produced in a 2000 litre bioreactor could produce 133 million doses worth of drug substance annually. In comparison, the RNA platform seems to be approximately 10,000 times more productive per unit volume and per unit time, being and capable of producing a billion doses or more in a couple of months.'
Dealing with a pandemic as daunting as Covid-19 requires collaboration
Packaging aspects could also be important, with shortages of vials commonly used to contain vaccines being reported, although a consortium of glass manufacturers including Schott, Stevanto Group and Gerresheimer have committed to ensuring sufficient vial supplies. CEPI is also evaluating a 200-dose bag filling system to break open the vial-filling bottleneck, Kis notes.
As well as producing hydroxychloroquine, Sanofi it is developing a protein-based vaccine in collaboration with GlaxoSmithKline (GSK), which is producing a billion adjuvant doses for this and other vaccine candidates. An adjuvant is an additive that helps provoke a stronger immune response to a vaccine. 'Sanofi and GSK are leaders in the vaccine industry and have a mutual goal of protecting public health,' a Sanofi spokesperson says. It is also working on RNA vaccines in collaboration with CureVac. 'Sanofi Pasteur has a legacy of scientific discovery and experience with vaccine development, licensure, and manufacturing that makes us well-positioned to respond to emerging public health threats such as Covid-19,' the spokesperson comments. 'We have experience from Sars and are using our knowledge for the development of our vaccine candidate.'
Changing the world together
Sanofi's goal is to initiate Phase 1 clinical trials in the second half of 2020 and, subject to a positive outcome, complete the development required for availability in the US and Europe by the second half of 2021. 'While it is difficult to commit to an exact number of doses, our expectation is to be able to produce hundreds of millions of doses of vaccine,' the spokesperson says.
Yet Sanofi recognises that it can't work alone. 'Dealing with a pandemic as daunting as Covid-19 requires collaboration,' the spokesperson says. 'We are collaborating with the Biomedical Advanced Research and Development Authority (BARDA), within the US Department of Health and Human Services, to unlock a fast path toward developing a vaccine. The cooperation we have with BARDA in the US allows Sanofi to initiate production as early as possible while we continue to develop and register the vaccine. In the meantime, we are very encouraged to see the mobilisation of the European commission, exploring similar measures that could expedite both vaccines development and access to the European population.'
Singhvi adds that the US Department of Defence is also stepping in to help development of production capacity. Meanwhile, the Bill and Melinda Gates Foundation is reported to be funding construction of factories for seven different vaccine candidates. Bill Gates has commented that he only expects two to be fully scaled up. Singhvi also highlights collaborations like that between Sanofi and GSK and the $750 million licensing deal between AstraZeneca and the Serum Institute of India to produce the Oxford vaccine. Such collaborations 'have never been seen before', he says. 'Seeing companies work together in a non-competitive manner is very positive.'
Scaling up vaccine supply still poses big problems, Singhvi adds. Some big companies, like Sanofi and GSK, have said that their own facilities will have the capacity to produce the vaccines needed. However doing so will involve 'tough choices', Singhvi notes because they have to stop making other products. But few Covid-19 vaccine developers have the needed resources, so they have all 'tied up with somebody who has some credibility as a manufacturer' he adds. 'Are they getting supply? Even if you have a supply agreement, the suppliers might still disappoint you.' He also comments on Novavax's purchase of a factory in Czechia to produce its protein fragment vaccine. 'They've bought a plant, which they've never put their foot in,' he says. 'And then suddenly, they've also made a promise that they will make a tonne of material there.'
Nevertheless Singhvi believes that low volumes of vaccine might be available for healthcare workers and those at high risk within six months to a year. But he feels that the manufacturing complexities and level of testing required in human trials for large scale vaccine production will take at least two years. 'Maybe one company will come in faster, but there is a limit to how much they can make.'
While that may disappoint those of us desperate for life to return to normal, it could change the vaccine industry forever. 'People will have a different benchmark of how quickly vaccines can be developed,' Singhvi says. 'That's very good because the economics of vaccines is dependent on these development timelines.'

A science writer based in Exeter, UK