People rarely fix things when they break anymore, and we all put up with mass-produced, one-size-fits-no-one items. FormFormForm, a small company based in London, UK, is trying to reverse that trend with a mouldable silicone rubber adhesive called sugru.
Inventor and chief executive Jane Ni Dhulchaointigh first came up with the concept while studying product design at London's Royal College of Art. 'I wanted to use my creativity to make a difference in people's everyday lives,' she says. After experimenting with everyday materials like concrete, foam and plaster, she mixed silicone bathroom sealant with waste sawdust and rolled it into a ball, which bounced when she dropped it on the floor.
'For me, this material that looked like wood but behaved completely differently was just fascinating. I thought to myself "it must be useful for something!"' Ni Dhulchaointigh explains. 'I didn't find any one thing that it was good for, but I found hundreds and thousands of little things.'
Uncured sugru feels a bit like play-dough, and can be shaped and moulded to fit all sorts of applications. It sticks to all manner of surfaces, apart from Teflon, and once cured it becomes a flexible silicone rubber that's stable from –50°C to 180°C. 'Most people are familiar with mouldable things like play-dough and plasticine, but they don't have the adhesive properties of glue,' says head of R&D, Jude Pullen. 'On the other hand, sugru is also a single component, unlike adhesives such as epoxy where you need to mix two parts together.'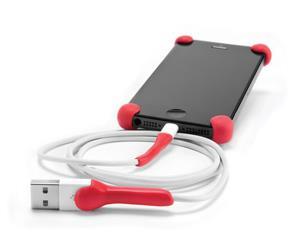 That combination of properties has encouraged a whole community of fixers and hackers to come up with ingenious uses, beyond even its creators' imaginations. 'We've had some very unusual and inspiring creative responses, from prosthetic modifications, fixing fridges and sports equipment, to putting GPS units on tortoises to keep track of them' says Pullen. 'We get surprised every day – it's absolutely incredible,' adds Ni Dhulchaointigh.
While the ingredients of sugru are relatively simple, developing the right formulation took countless experiments. 'In the early days, we were mixing everything by hand on a marble slab,' says Tom Dowden, principal researcher and the company's first full-time employee.
The basic component of sugru is a silicone polymer, which is chemically modified to work with silane crosslinkers, Dowden explains. The silanes transform the chain terminals, which enables them to crosslink and cure the material once exposed to moisture from the air, as well as bond to substrates once cured.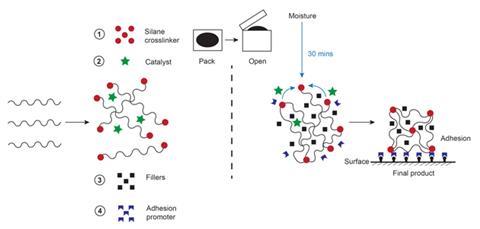 Filler components, including talc and amorphous silica-based materials, give sugru its particular physical properties. Extending fillers bring the consistency from the viscous liquid of the silicone polymer to something more like a dough or putty. Reinforcing fillers also contribute to sugru's strength, durability and toughness once it cures. 'Another filler reduces the surface stickiness, so that it's still tacky enough to adhere to surfaces, but not so tacky that your hands get messy when you're handling it,' Dowden adds.
Sugru's bright, primary colours come from pigments that the company buys pre-dispersed in silicone resin, rather than as powders. 'That helps control the final consistency,' explains Dowden. The team has produced an online guide to mixing a whole palette of colours, and is now looking to add new colours to the range.
One of the main things the R&D team is working on is to really understand the fundamental chemical properties of sugru. 'That allows us to tailor it for different applications,' says Pullen. 'One of those is making it softer – our scientists created an additive, which we're beta testing, that allows us to modify the hardness of sugru.'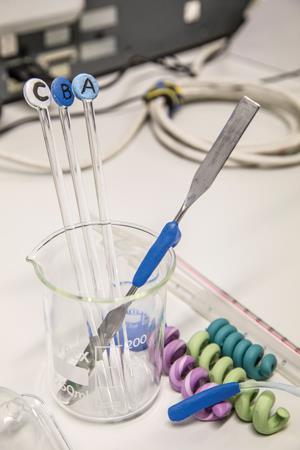 Without any softener, sugru has a Shore A hardness of around 70 – roughly as hard as a car or bike tyre tread; mixing in different proportions of the softener gives cured compositions with hardness ranging down to around 40–45, more like a rubber band. The softener was developed in conjunction with fencing equipment maker Leon Paul, where the softer compound allows fencers to modify the grips on their blades to improve comfort.
Sugru is ideal for fixing little bugbears in a lab environment, Pullen explains. Looking round the company's growing R&D space, you quickly spot bundles of cables tidied with sugru helices; safety specs modified for comfort; thermometers with replacement toggles; and a variety of glassware with grippy bases or bumpers on vulnerable areas.
Beyond fixing and hacking our stuff, Ni Dhulchaointigh foresees potential applications in the automotive industry and even medical devices: 'We see from our customers it's being used in factories, for little jigs or prototyping. But there are unique properties of sugru that could solve problems in manufacturing, so that's very exciting.'
There's also a big creative community around sugru, with fashion and furniture designers using it in their creations. But for Ni Dhulchaointigh, the most important aspect is reminding people that they can actually fix things. 'We've lost that skill and interest over the last few generations,' she says. 'If you imagine being someone who's never been able to fix anything before, and they can suddenly fix the fridge door that's been annoying them for ages, for example, there's an enormous sense of pride that comes with that.'