A medicinal chemist in South Africa sees his research 'ground to a halt' and worries about restrictions being lifted as infections are rising
During this difficult time, Chemistry World is checking in with chemists around the globe to see how they are weathering the Covid-19 pandemic.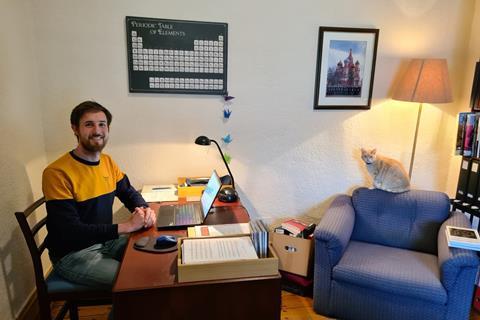 John Woodland, a postdoctoral medicinal chemist at the University of Cape Town in South Africa, works in the only integrated drug discovery platform in all of Africa. His research, which focuses on designing and synthesising potential drug leads for infectious diseases like malaria, has come to a standstill.
'Our medicinal chemistry has completely ground to a halt over the past three months,' Woodland says, noting that meetings and planning continue through online platforms like Microsoft Teams and GoToMeeting. 'Here's hoping the long wait has enticed some of our frontrunner compounds to crystallise.'
Shortly after the first Covid-19 case surfaced in South Africa, the government implemented a three-week 'hard' lockdown beginning on 27 March. Initially, nobody was allowed to leave home unless it was to buy groceries or get medical care. Even outdoor exercise was prohibited.
'This initial lockdown period was later extended to five weeks and, even though several restrictions have since been relaxed, many of us still leave our homes very infrequently – almost three months later,' Woodland says. However, he adds that many people have returned to work, albeit with strict hygiene measures in place.
Planning precautions
Right now, the University of Cape Town's campus is closed until July, but some students have been allowed to return, such as the final-year medics who urgently must complete their studies.
Woodland works at the university's Drug Discovery and Development Centre, where he and colleagues have already had online discussions about taking precautions like working in shifts to enable physical distancing, wearing masks, and taking other hygiene measures so that they can hit the ground running once labs reopen.
The academic year in South Africa runs from January from December, and the hope is that chemistry students and others will be able to return to the labs later this year to complete the practical components of their courses.
Many remain concerned about the fact that Cape Town continues to be the epicentre of new Covid-19 infections in South Africa. Since the virus hit South Africa in early March, the country saw more than 106,000 confirmed cases and 2100 related deaths, as of 24 June. Meanwhile, in the Western Cape – of which about two-thirds of the population lives in Cape Town – there have been over 52,000 confirmed cases and 1500 associated fatalities.
The university has reported eight individuals – five staff members and three students – who tested positive for Covid-19. One has passed away, and the other seven have now recovered.
Empty shelves and crowds
In the suburb about 10 km from the Cape Town city centre where Woodland lives with two cats and his partner – a final-year medical student at the University of Cape Town who recently resumed his studies – there was panic-buying just before the lockdown was announced. That led to empty shelves in some supermarkets, but he says stocks have since been replenished.
One controversial aspect of South Africa's lockdown was the ban on outdoor exercise during the first few weeks. 'The streets were deserted and there was a silence unlike any that I had ever experienced in a built-up area,' Woodland recalls. Unsurprisingly, he says there were crowds of people on the popular Sea Point Promenade on the first day on which the exercise restrictions were lifted. 'Not a good thing,' Woodland remarks.
As restrictions ease, cases of the virus in South Africa continue to rise precipitously, reportedly increasing by nearly 40% just over a week in mid-June.
Hype and hope
Woodland's passion for science engagement is helping him through this difficult time. As part of a team working in malaria, Woodland was fascinated by the initial public interest in repurposing chloroquine and hydroxychloroquine against SARS-CoV-2. 'Sadly, the hype seems to have outlived the hope,' he says. He wrote an article for a local news publication in April just as the first clinical data on treatment of Covid-19 with hydroxychloroquine were being released, and that led to an interview later on a local radio station.
Woodland is also heavily involved in music, directing and training a choral group of 30 singers called VOX Cape Town. Unfortunately, singing is currently considered one of the most hazardous activities, so the group has been meeting regularly on Zoom since the lockdown began.
He is also a presenter on a local classical music radio station, Fine Music Radio, and engaging with listeners and local musicians has kept his spirits up. The pandemic has devastated the local music industry, and so the station has initiated a weekly broadcast called PLAY ON! to highlight these groups' music and the innovative ways in which they have responded to the current situation.