In New Zealand, where there are close to zero active cases of Covid-19, labs have reopened with no distancing rules
During this difficult time, Chemistry World is checking in with chemists around the globe to see how they are weathering the Covid-19 pandemic.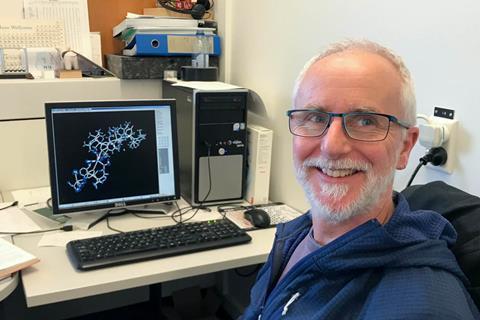 Martyn Coles, a synthetic inorganic chemist who heads the school of chemical and physical sciences at Victoria University of Wellington in New Zealand, is very thankful to live somewhere that has navigated the Covid-19 pandemic so well.
The South Pacific nation has reported about 1,500 infections and just 22 associated deaths. Last month, prime minister Jacinda Ardern announced that New Zealand had eliminated the virus 'for now'. That 8 June announcement marked 17 days without any new infections in New Zealand; since then, only a handful of new cases have emerged.
'Life is more or less back to normal,' Coles says, noting there are no longer crowd restrictions or social distancing measures in New Zealand, and children are back in school.
Research labs at his university are also now operating at an almost pre-Covid level. They are open with no distancing rules, but researchers and students are strongly advised to track their movements for potential contact tracing, and to stay home if ill.
Coles shares a large lab space with several research groups, including two inorganic chemists working in similar areas, as well as a synthetic organic chemist and a physical chemist who synthesise new materials for optoelectronic properties. At any one time there can be up to 25 students in the lab space, which contains the standard synthetic equipment, many vacuum lines and two gloveboxes.
In-person classes resume 13 July
Victoria University is currently on a trimester break. Undergraduate students were not required to return to campus for classes for the first trimester, which just ended, but they are encouraged to come back for the second trimester, which starts on 13 July. Lectures will also be recorded for students unable to attend in person, Coles explains.
New Zealand has implemented a Covid-19 alert system that spans four levels. On 25 March, the country went to 'Alert Level 4', and the university was locked down with all activities halted on campus. The country transitioned to Level 3 about a month later, and it moved to Level 2 on 13 May, under which restrictions were reduced since the disease was considered contained but concerns remained about community transmission.
Finally, New Zealand entered Level 1 on 8 June, meaning that the disease is contained yet people are urged to remain alert and prepared. This primarily involves very strict border entry controls and quarantine measures for returning nationals.
During the worst of the pandemic, Coles was involved in shutting down his research lab and coordinating the closing of the university's school of chemistry and physical sciences.
'The most challenging aspect was planning ahead, not knowing how long the lockdown would be for,' Coles tells Chemistry World. He and colleagues identified technical staff who were allowed on campus, under strict guidelines, to ensure essential equipment was running. This includes NMR spectrometers that require a regular supply of cryogenic gases, and gloveboxes that need to maintain an inert atmosphere.
Managing the reopening
Coles also helped manage the reopening process, which proved even more challenging. 'We gradually relaxed the distancing requirements and tracking systems we had in place as we re-entered through Alert Levels 3 and 2,' Coles recalls. 'Now we are at Level 1 there is no distancing or restrictions on the numbers allowed to be in the lab, so we are very fortunate to be operating almost "as normal"'.
During the lockdown period, Coles used Zoom and Microsoft Teams to keep in daily touch with all academic and professional staff from his college, heads of the university's other schools, and more senior leaders like deans and pro-vice-chancellors.
'I was very keen to try and avoid a deluge of emails being sent out to staff,' Coles recounts. 'I specifically tried to filter messages so that only the essential information was disseminated.' To promote socialising and keep moods high, Coles also hosted a 'virtual drinks session' every Friday while he and his colleagues were in self-quarantine.
These strictly social events, in which there were penalties for talking about work, were well-attended. 'It was a chance to check in with each other and find out how we were all coping, any exciting project we had been doing around the house/garden, et cetera,' Coles explains.
Pre-Covid, the rest of the world was only ever a flight away, but now it feels much more isolated
The travel restrictions instituted because of the pandemic have been particularly hard as New Zealand is somewhat remote. Coles has had to cancel overseas trips. With family in the UK and the US, he is constantly tracking the status of the pandemic around the world. 'Pre-Covid, the rest of the world was only ever a flight away, but now it feels much more isolated,' he says.
The vast majority of people in New Zealand took Covid-19 very seriously and responded with absolute dedication, according to Coles. 'That has really paid off in our return to Alert Level 1 and an almost normal way of life,' he says. The country's relatively small population has also helped with the distancing, he adds.
Coles hopes the pandemic will help researchers to better appreciate how they can support those in tougher situations.
'When things are working normally it's easy to forget how lucky we are to have access to all the facilities that enable us to conduct our scientific studies, but at times like this there is more of a differential applied – some that are able to work as normal and many at this time for whom that remains a distant dream,' Coles says.