An Ecuadorian researcher has converted her lab to run the first Covid-19 tests in the Amazon
During this difficult time, Chemistry World is checking in with chemists around the globe to see how they are weathering the Covid-19 pandemic.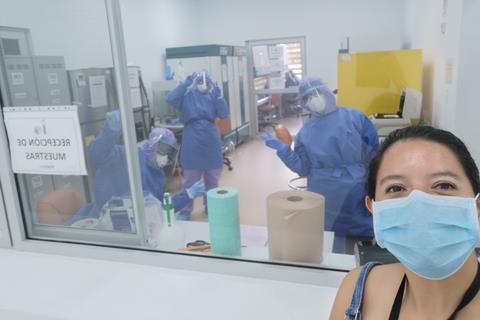 Carolina Proaño runs the first lab approved to do Covid-19 testing in the Amazon region. She directs the molecular biology and biochemistry lab at the Universidad Regional Amazonica Ikiam in Ecuador, and has a team that began analysing the first patient samples by real time polymerase chain reaction the week starting 18 May.
Proaño lives in Tena, a small city in the rainforest about 116 km southeast of Quito that had no labs capable of testing for Covid-19. 'When the pandemic appeared, I felt we had to do something,' she says. 'Because we have a very good lab and lots of good people trained to do this kind of analysis, I knew that we could do it.'
The lab, which is focused on peptidomics and proteomics, does DNA and RNA analysis. It houses equipment that is unique in Ecuador, including a peptide synthesiser, circular dichroism spectropolarimetre and Maldi-Tof mass spectrometer.
Ecuador is one of the South American nations hardest-hit by Covid-19, with more than 37,000 confirmed cases and over 3,200 related deaths as of 26 May.
Proaño received approval for the testing in mid-April, but there have been delays. 'Almost everything that we need for research is imported, including chemical reagents and even the plastics and tubes,' she explains. Also, prices have increased because these supplies are in high demand worldwide. 'It is really difficult to find, for instance, RNA extraction kits, as well as swabs for the sampling and the necessary plastic wear and personal protective equipment,' Proaño says.
Reshuffling and safeguarding
Turning her lab into a Covid-19 testing centre didn't require major infrastructure changes, only reorganisation and reshuffling. The work is taking place in an area originally designated for cell cultures, which has a BSL-2 security cabinet. 'We turned that into an RNA extraction room – that is the most dangerous part of the whole technique, so that is a closed area,' Proaño explains.
They also had to develop new security procedures specific to Covid-19 samples. She and colleagues wrote a manual that covered, for example, how to dispose of potentially contaminated waste.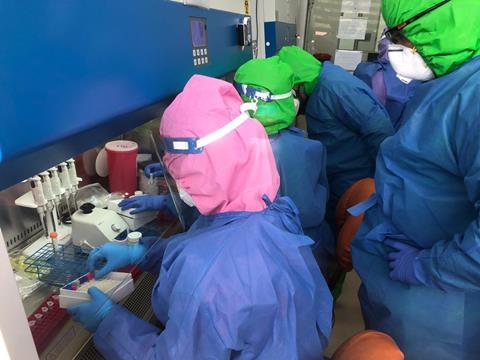 The lab can currently run about 90 samples daily. 'We hope to double that in the next few months,' Proaño says. 'We don't have automatic machines, so it is going to be hand extraction, which will reduce the number of samples that we can analyse.'
Universidad Regional Amazonica Ikiam closed on 16 March. 'All research had to be terminated, it was very sad,' she says. In addition, experiments planned for the winter term were suspended and many theses are on hold.
Very few people are allowed to enter the university's buildings right now, but Proaño received a special permit to go to her lab to set up the new diagnostic space and obtain the needed authorisations for Covid-19 testing.
The virus struck during the university's term break. The start of the next term has been delayed until 29 May, and classes will be delivered online. 'The plan is that we run the first 10 weeks or so with the theoretical part of the lessons, leaving lab sections to the end in August and September,' Proaño says. She cautions, however, that the lab component may not be possible.
Internet connectivity challenges are anticipated, and Proaño expects she'll have to go to the university and use the Internet there. Indeed, multiple glitches plagued her Zoom interview with Chemistry World. She plans to record her lessons so that students can watch them after the live recording. To help address this issue, the Ecuadorian organisation in charge of the Internet capacity at the country's higher education institutions – Cedia – has given universities free unlimited and higher quality Internet connections. Meanwhile, Proaño and her colleagues will be using Google Meet and Moodle online platforms for course instruction.
Professors and universities struggling
Proaño usually teaches biochemistry and biology, but the university has approved her request to instruct the latter course only this coming semester because she's busy with Covid-19 testing. Just recently, however, the organisation that regulates higher education in Ecuador increased the amount of time that public university professors must teach to between 16 and 24 hours per week. 'My normal teaching charge is 10 hours weekly,' Proaño says. 'They think we are not doing anything else, I guess.'
Furthermore, the budgets for public universities in Ecuador – from which the salaries of professors, researchers and administrative staff are paid – have seen significant reductions. In response to the economic crisis in Ecuador, made worse by Covid-19, President Lenín Moreno recently instituted a $100 million budget cut for public higher education.
'That is a big issue,' Proaño warns. 'People are going to be fired probably, and we will have to increase the number of hours for everyone.' The Universidad Regional Amazonica Ikiam will see its budget slashed by $1 million, she says.
At the beginning of the outbreak, Proaño was optimistic. 'I thought we were doing things right by starting quarantine pretty quickly with just a few cases,' she says. 'But the lack of a quick test, a non-effective epidemiological fence, and people's behaviour made Covid cases escalate very quickly.' Economic inequality has meant that some people could not stay at home and had to go out to feed their families.
To keep her spirits up, Proaño has stopped watching the news. She also helps run Zoom fitness classes through the university. A black belt in Taekwondo, Proaño is in charge of martial arts: 'It really clears my mind and lifts my spirits.'