The ups and downs of reopening a Chinese university and its research labs after prolonged closure
During this difficult time, Chemistry World will be checking in with notable chemists around the globe to see how they are weathering the novel coronavirus pandemic.
Graham Dawson is a lecturer and researcher at Xi'an Jiaotong-Liverpool University in Suzhou, China, about 100 km northwest of Shanghai. He recently reopened his lab, which modifies nanomaterials for photocatalysis to produce hydrogen and degrade water pollutants, after an extended emergency closure due to the Covid-19 outbreak.
When Dawson, his colleagues and students left campus in January for the Chinese New Year, they thought they would only be gone for about a week or two for the holiday, but the virus took root in China. On 3 February, faculty and staff began working from home and students started taking their classes online. It was not until 13 April that Dawson and his colleagues finally returned to campus and to their labs. The following week, PhD students were allowed to come back if their supervisors were in Suzhou.
The two PhD students who work for Dawson are now back alongside him in the lab. During the lockdown, they spent time reviewing previously collected data, which turned out to be a good exercise.
'We identified a lot of holes in our data, which is something we are always trying to do, but we had time the last few months to spend on it,' Dawson recalls. 'Every time we found a gap, they wished they could get back to testing right away.' Now that the lab has reopened, he says, they are eager to tackle the to-do list.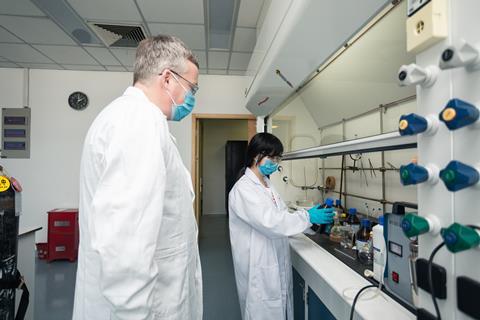 About 200 staff stranded
There currently about 200 staff from Xi'an Jiaotong-Liverpool University who remain outside of China. Meanwhile, those who are at the university need to show a QR code to enter campus buildings, and only designated entrances are open. They are wearing masks in public places, and the policy is that people should stay 1.5 metres apart.
Back in his lab, Dawson has encountered some difficulties doing external testing. The researchers in his lab use machines at the nearby Suzhou University, where scientists from outside the institution aren't allowed on campus. He also has a collaborator at the China University of Geosciences in Wuhan who hasn't been permitted back to his office since January, and won't be allowed in his lab before September.
Because the provincial government has not yet allowed undergraduates to return to campus, all teaching at the university remains online. 'I hope we are all back on campus in September, but we shall have to wait and see,' says Dawson, who is teaching an undergraduate physical chemistry course remotely. The class assessment typically has a laboratory portion and a 70% exam component. In consultation with the head of the chemistry department, Dawson says he decided to increase the lab component because it is a good way to test his students' understanding.
'Since the students can't go into the laboratory, we have recorded videos and are providing data for them,' he explains. 'They will then write extended lab reports, which will be the basis of their assessment.' In these reports, Dawson expects that his students will research or link items to content that they will reference. He also anticipates that they will include a more detailed discussion of data to further illustrate their comprehension of the course material.
Pink slips and QR codes
Dawson, who is originally from Scotland, came to Suzhou in 2006 to postdoc at the Chinese Academy of Sciences, and after five years decided to stay there. In the entire Jiangsu province, there were about 650 cases of Sars-CoV-2 and zero associated fatalities, as of 14 May. Dawson 'very much' agrees with the decision to open back up the university and its labs, saying the lockdown procedures put in place seem to have worked.
He and his wife, who live in a compound near campus, stayed in Suzhou for the New Year holiday because they had a newborn son. At the height of the lockdown, they were given pink slips of paper when leaving their compound, and had to show green QR codes to get into indoor spaces like food establishments, stores and pharmacies.
'Everyone had to show they had been in Suzhou for 14 consecutive days, so we all had to have a QR code on Alipay or WeChat, popular payment apps,' Dawson says. In that way, officials were able to track their movements and trace potential Covid-19 exposure. Temperatures were also taken before entering public places.
During that period, Dawson took walks for exercise. In the first week, the only vehicle on the road was the liquid nitrogen truck, which was a welcome sight. 'We were able to get clearance to fill our NMR every week, so those were ready to go when we returned,' he recalls.
Dawson's wife works at the drug company Reistone, based in Shanghai, and started working from home soon after the holiday. She went back to her office a couple of weeks later. Fortunately, her mother has been staying in the house with them and has been able to help with childcare.
The lockdown has allowed extra time with his son, Dawson says. In addition, he notes that there is less pollution and the wildlife has returned. 'I saw kingfishers for the first time a couple of months ago,' Dawson tells Chemistry World.