Lockdown measures are easing in Iran, but there's still no indication of when universities will reopen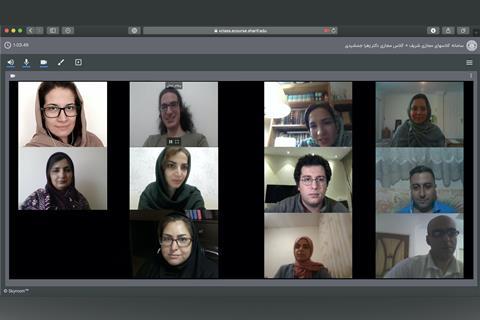 During this difficult time, Chemistry World is checking in with chemists around the globe to see how they are weathering the Covid-19 pandemic.
'We were in shock because we couldn't imagine that we would be the second country after China that has such a large outbreak of the virus,' recounts Zahra Jamshidi who researches metal clusters and teaches computational chemistry Sharif University of Technology in Tehran, Iran. Her university shut down all in-person activities in mid-February, shortly after the country recorded the first cases of coronavirus. Iran now has the eighth-highest number of confirmed Covid-19 cases.
Dealing with the situation – including having to leave their now-closed dorms – has been extremely difficult for many students, Jamshidi says. 'Sharif University of Technology is one of the highest-ranking universities in Iran. Managing this kind of situation is especially hard for our students; they're all so smart and eager to work.'
Fortunately, she says, the university was quick to respond, and had its virtual teaching system up and running one week after closing. 'We can keep communicating, keep the students busy to give them a little bit of distraction from the outside situation.'
Going live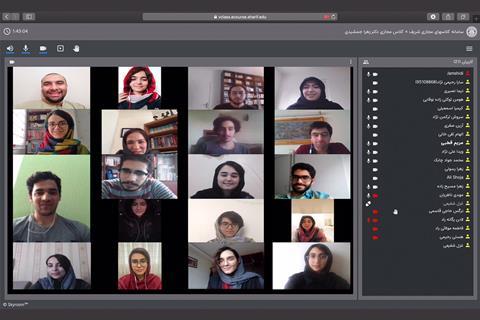 Jamshidi does her online lectures live. 'I tried recording but the students didn't like it because they couldn't ask questions,' she says. She also needed to make sure students have what they need to attend virtual classes. 'We know that some of our students stay in small towns and might not have the infrastructure they need.' Students aren't charged for data when they access the university's e-learning platform.
'I teach a computational chemistry lab that I usually run [for a group of students] in the computational centre,' Jamshidi says. 'What I do now is that I ask students to share their screen so I can see how they do their work.' However, this takes a lot of time. For a class that used to take two hours face-to-face, Jamshidi and her teaching assistants now spend six to eight hours online. 'I need to check each student individually during or after the class,' she explains.
Preparing students for exams has proved particularly challenging. Jamshidi started doing open book quizzes during which students are allowed to use their lecture notes and textbooks but not look things up on the internet. 'We ask them to switch on their camera to ensure that this is our students answering the questions,' Jamshidi says. 'But we don't like to force them as it's a fairly stressful situation.'
For the final exams, things will become even trickier to organise. 'For some large classes, like first years' introduction to chemistry, they are thinking about doing only pass or fail, rather than grades,' Jamshidi explains. 'But for fourth year students, they have courses they need the grades for.'
Although lockdown measures in Iran eased in mid-April and many businesses were allowed to reopen, it remains unclear when universities and schools will follow suit. While there's hope that the university will reopen in July or August, the administration is working on contingency plans. This could mean temporarily opening facilities just for the exams.
Practical courses, however, are a different matter. 'We don't yet know how to manage the labs and practical exams,' Jamshidi says. 'Students might be able to go to other universities in their cities to do their practical exams there.'
Working from home
The pandemic also changed how her research is progressing, though not necessarily in a negative way. 'Because we are a computational group have we now have lots of time to stay at home and do research,' Jamshidi laughs. 'We can access our high performance computer facilities remotely.' Her husband's analytical chemistry group, however, had to shut down the lab. 'For him and his team, it's a little bit harder; they now have to do things like writing a book chapter or a review.'
While none of Jamshidi's team is in a situation where they might have to do their thesis defence via video call, two of her students were about to go abroad for research visits, one to the UK and one to the Netherlands. 'But less than a week before they were due to go, their flights were cancelled,' she recalls. Still, Jamshidi counts herself lucky that she didn't experience any problems with funding being put on hold or withdrawn. 'We even started a new project with a petroleum company, even though they're also closed. But since we're doing computational work, we can continue doing it.'
New horizons
Apart from online teaching and managing her group's regular research on computational spectroscopy of metal clusters and plasmonics, Jamshidi also started another new project related to Covid-19. In collaboration with colleagues in South Africa and the Netherlands her team is investigating whether silver or gold nanoparticles can lessen the side effects of hydroxychloroquine. The antimalarial drug, which is being studied as treatment for Covid-19, often causes vomiting and headaches. There are also indications that it might increase the risk of cardiac arrest when used for treating coronavirus patients. Jamshidi's team provides computational modelling of how hydroxychloroquine interacts with nanoparticles, while the South Africa team is waiting for their labs to reopen to get on with the experimental work.
The project helps Jamshidi's team keep their spirits high. 'We don't know yet what the results might be but we wanted to put our energy into something that might be useful in the current situation,' she says. 'And the students are having fun doing this.'