An Egyptian polymer chemist and activist for equality in science struggles with interactive activities moving online during the pandemic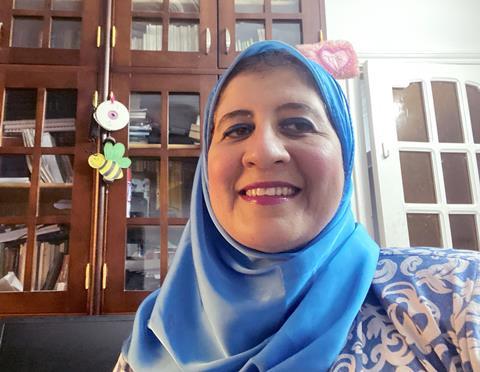 Amal Amin, an associate polymer chemistry professor at National Research Centre (NRC) in Cairo, Egypt who worked from home for several months due to the ongoing pandemic beginning in March, is somewhat uncomfortable that the country has essentially resumed full operations since the beginning of July.
'Returning back was a completely politico-economic decision because much of the world had already opened and the businesses here had great damage, especially the small businesses,' she says.
From 1 July, normal life returned to Egypt, albeit with precautions like face masks in public places, social distancing, regular disinfection requirements, and rules that only a certain number of people can be in closed spaces at once, explains Amal, whose research focuses on polymers and nanocomposites.
'As a scientist, I would like people to stay longer in isolation, but as a human I feel that people and small businesses were hurt a lot, which led to situations more risky than the pandemic itself,' she tells Chemistry World.
Amal's institute and her lab have remained open throughout the Covid-19 outbreak, with a reduced workforce that work fewer hours. 'The people who mainly continued working were the ones concerned with Covid-19-related research, and an additional minimum number of those mainly in relevant medical and biological fields and other urgent projects,' Amal explains.
Professional development becomes remote
There are about 4800 research staff at NRC. There is no official number for how many of these scientists were working onsite at the epidemic's peak in Egypt. According to Amal, the number was 'very low', and it was 'very rare' that researchers in fields unrelated to Covid-19 or critical projects were at NRC continuing with their experiments.
'We continued working at home, writing up research papers based on previous results, reading scientific papers, having online discussions and webinars, but did not do much physical research before July,' Amal recounts.
Interestingly, she says the most significant challenge she faced because of the pandemic involved the various professional development campaigns she helps to lead moving online.
'It is not my typical or preferred way to interact with people,' Amal says. 'I prefer direct contact – especially because my research is mostly practical, and my activities mainly depend on interaction and cultural exchange, not only in Egypt but worldwide.'
For example, she is cofounder and former president of the Egyptian Society of Advanced Materials and Nanotechnology, and the founder and past coordinator of the Nanotechnology and Materials Science Arab Network. Amal is also founding chair of Women in Science Without Borders (WISWB) initiative, a network of scientists from more than 48 countries that aims for equal participation of men and women in research projects and scientific collaborations.
WISWB's most recent conference was held in Brazil in February 2020, and its next meeting is supposed to be a special forum in November focused on Iraqi refugees. That event was to be convened in Iraq's Kurdistan region known as Duhok, and be dedicated to helping the country reconstruct its scientific enterprise. 'I doubt about the possibility of accomplishing that, and I expect it to be in limited scale or online,' Amal says.
As a scientist from a developing country, Amal fears that the world could be transformed into more isolated countries and regions post-pandemic, which will affect the freedom to transfer scientists and science between different parts of the world. She is also concerned that an enhanced dependence on technology and Internet connectivity will increase that isolation for poorer nations.
Egyptian women got a break
Amal suggests that female researchers were especially hard hit by the pandemic and consequent lockdown. 'Women had extra family commitments during lockdown because of complete dedication at homes with children after the schools, nurseries and day cares were closed down,' she says. 'Also, many women scientists with small children could not work remotely.'
The Egyptian government recognised this disproportionate burden, and provided extra paid time off for female researchers with young children. 'The government gave them special paid vacations to take care of children below 12 years of age,' Amal says.
Beyond her research at NRC, Amal is also a part-time visiting professor at Cairo University. The new academic year is set to begin on 17 October, and she will teach a course on polymers as part of a postgraduate nanotechnology programme. 'I think the lectures will continue to be online, but that is not yet determined,' Amal says.
The number of people newly infected with Covid-19 in Egypt continues to fall, and deaths linked to the virus have decreased as the country's hospitals have become more experienced in treating these patients. As of 3 September, there had been more than 99,000 Covid-19 cases in Egypt and over 5400 associated deaths, according to Johns Hopkins University data.
One of the hardest thing about the lockdown for Amal was watching her 17- and 23-year-old daughters struggle to navigate the situation. When schools shut down and switched fully online, her younger daughter was preparing for the final exams required to graduate high school and earn a spot at university. Her older daughter was studying medicine at university, attending interactive and practical courses.
With her busy schedule slowed, Amal was able to enjoy reading nonscientific books, and to start writing her life story. In addition, she helped organise a series of webinars on the challenges humanity faces in the age of Covid-19.
'I was working day and night with almost no rest, so Covid-19 was unexpected stop to revise and evaluate my achievements, my life and take rest,' Amal says.