A freshly-minted PhD talks about the challenges of life and job-hunting during a pandemic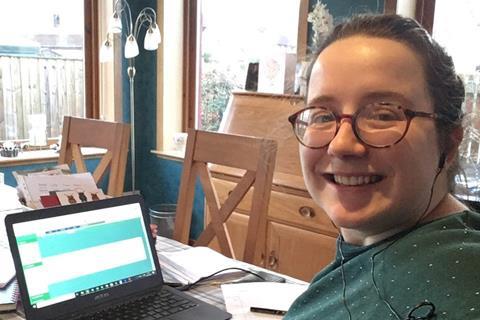 During this difficult time, Chemistry World is checking in with chemists around the globe to see how they are weathering the Covid-19 pandemic.
Fiona Scott recently completed her medicinal chemistry PhD at the University of Sussex in Brighton, England and had a virtual viva from her home in Perth, Scotland. She was already pretty much self-isolating before Covid-19 hit the UK.
When the lockdown happened in mid-March, she had been working from home for several months, finishing up her thesis after having left Brighton at Christmas to make the last bit of her PhD stipend go further by moving home to Perth temporarily.
'I was trying not to see too many people because that would just be me procrastinating from writing, so it wasn't a huge shift,' she says. Because Scott was already being supervised remotely by her advisor ever since he moved institutions shortly after she began her PhD in 2017, there was relatively little adjustment as she wrapped up her doctorate.
Ultimately, Scott handed in her thesis at the end of April and defended it over Zoom on 5 May. She delivered a 30-minute webinar to her department that morning, which would have been a seminar had it been in person, and then spent two hours in the afternoon with examiners and an additional viva chair who was there to help navigate any technical issues that might arise.
'After two hours, they stuck me in a virtual waiting room and then thankfully told me I had passed with minor corrections,' Scott recalls. She has made those corrections and resubmitted her thesis, and is now just waiting for the official paperwork. 'I am Dr Scott on Twitter, but not officially yet,' she quips.
A bit stuck
Overall, the shutdown didn't change Scott's day-to-day routine, and the biggest challenge was not being able to see her partner, who lives outside Edinburgh – about 70km away. Since completing her PhD, however, Scott says the pandemic has significantly hampered her job search. 'I had planned to be living here until about now anyway, but was hoping to be moving out to a job, so I am feeling a little bit stuck,' she states.
There was a recent disappointment after a very positive recruiter interview for a position at big lab in Glasgow that is supporting Covid-19 testing for all of Scotland. 'I just got a bit excited as it was the first thing I'd heard back from,' Scott recounts. But after more than a month of silence, she inquired and learned that the lab is fully staffed at the moment.
It's been frustrating seeing remote roles asking that she believes would be hers if there were no lockdown. However, over the last few weeks, Scott has been encouraged at seeing more entry-level job adverts posted for positions she'd like long-term. 'They are not necessarily being advertised as remote,' Scott adds. 'So I am applying.'
Some of the jobs that interest her most include medical writing, clinical trial coordination and project management. She has been applying for such roles, and wants to stay in Scotland if possible. 'It's just a big waiting game really,' Scott says. 'I'm feeling in limbo waiting for my PhD and waiting for job interviews to happen as well.'
Present precariousness
She's not alone in facing ambiguity. In a Zoom celebration with her research group about a week after her viva, Scott's former colleagues expressed significant frustration about current uncertainties. One of the unsettling things is a redundancy scheme that the University of Sussex has announced to try and make up for the financial loss expected from students not coming or returning to campus, for various reasons related to the pandemic.
'There is just a lot of uncertainty about getting a job in what was already quite a precarious area of academia,' Scott says. 'Research funding bodies will certainly still be offering grants and things, but I wonder how many internally-funded PhD studentships and teaching fellowships will continue to be available in the coming years,' she notes.
There will also likely be a significant backlog in scientific papers awaiting publication. Scott notes that she and colleagues had an article they hoped to submit to a journal for publication this year, but it's been sidelined for now. Even though Scott's part of the paper is done, her collaborator in Brazil doesn't know when they can return to their lab and complete their portion of the project.
Living right now with her parents in her childhood home in the western edge of Perth, Scott is finding solace participating in her local church events and services remotely through her computer, as well as singing and playing the violin in various virtual choirs.
These activities are pleasant and welcome distractions that help fight her stress, which is ample. Just two weeks before her viva, Scott's 92-year-old grandpa, who lives in a care home about 25km away in Crieff, contracted Covid-19 and she and her parents feared the worst. Amazingly, however, he gradually got better and has recovered. She and her parents have been able to visit – albeit with a window between them. Things are indeed brightening, Scott says, and she's looking to better days ahead.