Labs are still open at the University of Nebraska in Lincoln, US, but it's not business as usual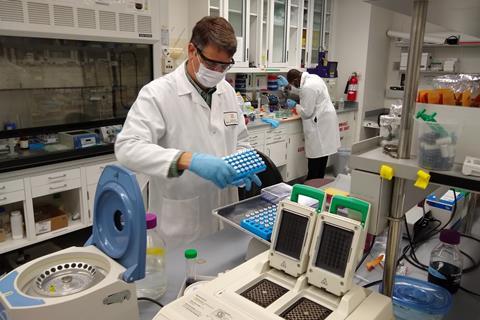 Update, 8 April: Since this article was published, the University of Nebraska has announced that it is closing to all non-essential employees. Lab members can return to campus until 10 April to perform any tasks necessary to shut down and transition to working from home, after which the university will remain closed for at least two weeks.
During this difficult time, Chemistry World will be checking in with notable chemists around the globe to see how they are weathering the coronavirus pandemic.
As of 6 April, there were 412 cases of Covid-19 in Nebraska and eight deaths, with 31 instances of the virus in the city of Lincoln. So work in many labs around the University of Nebraska in Lincoln (UNL) – including Edgar Cahoon's lab, which focuses on research into plant lipid metabolism – continues on, but there is uncertainty about how long that will last.
'We look at the maps of how the virus is spreading around the country, and it may be that later this week, maybe next week, we will have the same restrictions as a lot of other places, where we are not allowed to come to the lab to work,' says Cahoon, a biochemistry professor whose work with a team in Wuhan, China, led to the discovery of two new fatty acids inside an Asian garden plant that were subsequently named Nebraskanic acid and Wuhanic acid in 2018.
Balancing social distancing and research
Although UNL has shut down in-person classes for undergraduates and gone totally online, there are essentially no restrictions on the school's lab operations. Even the undergraduates who are paid for their work instead of earning course credits can keep coming in.
However, the number of undergraduates in the Cahoon lab has fallen from four to two. Of his three graduate students, one is maintaining a normal lab work schedule, another has been out of the lab preparing for exams, and the third is working from home on her PhD thesis. 'She still has more research to do but she can do some of the writing outside of the building,' Cahoon explains.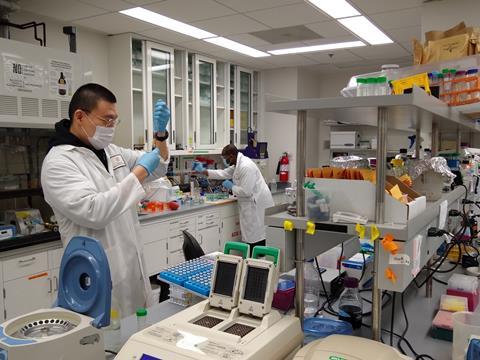 His six postdoctoral researchers are all in the lab full time, albeit on rotating schedules that ensure only a few are there at any given time. They try their best to maintain a six-foot distance between each other in the lab, and there's plenty of handwashing going on. 'I don't want you to think that we are being reckless here – we are being quite cautious, and just kind of in a wait-and-see mode,' Cahoon tells Chemistry World. 'We are taking all the precautions that we are told to.'
The lab's eight-person administrative staff, considered non-essential for research, are all working from home. 'We are still writing grant proposals,' Cahoon says. 'Our grant experts are there at home, and we can communicate with them through email.'
A visiting undergraduate student from Wuhan is also stuck on campus. He tried to return home about a week and a half ago, but because his passport was issued in Hubei Province he was not allowed to board a connecting flight to Seoul, South Korea. 'He is not really sure when and how he will get back to China, given restrictions that China has set as well, as very few flights going to China,' Cahoon says. 'I think he is now resigned to returning in the middle of May, at the earliest.' In the meantime, the student is taking his UNL courses online.
Collaborating in a crisis
Cahoon's collaborative work with researchers at Huazhong Agricultural University in Wuhan also continues. International students from places like Pakistan, who haven't been able to leave Wuhan, are being relied on a lot for field work related to their joint studies, Cahoon says.
Cahoon was last in Wuhan in mid-December and says everything seemed normal. He heard nothing about the novel coronavirus until January, when the rest of the world found out.
The research teams have been supporting each other as the pandemic has spread. 'Just a month or so ago they were in a bad situation and being contacted with offers of help, and now they are contacting us about how they can help us,' he says. 'They are asking if they can send us masks and protective equipment.'
Even before the emergence of Covid-19, Cahoon says there was 'a lot of pressure' surrounding work with China,' referring to US government concerns that American universities are especially vulnerable to Chinese penetration and theft of sensitive information. Cahoon had a 'more formal relationship' with Huazhong Agricultural University until recently, but ended that arrangement in October at UNL's request. The ongoing pandemic makes such scientific partnerships even harder.
The one upside to the Covid-19 outbreak is that research labs are quieter. 'We've had fewer administrative meetings, and so there has been actually a bit more time to really think about science,' Cahoon says. He urges colleagues to catch up on manuscripts that are due, and work on grant applications. 'Make something positive out of this somewhat downtime,' Cahoon advises.