A Nigerian chemist worries as her university and others in the country remain closed due to the pandemic and an academic strike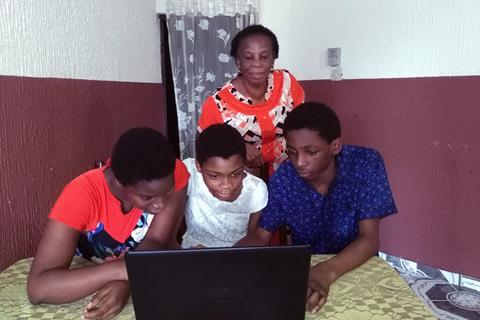 During this difficult time, Chemistry World is checking in with notable chemists around the globe to see how they are weathering the coronavirus pandemic.
The lab of Philippa Ojimelukwe, who served as the head of research administration at Michael Okpara University of Agriculture in Nigeria for six years until January and teaches food chemistry there, was shut down in March due to the pandemic. Her lab and others at the university remain closed.
'Skeletal administrative duties are going on, but laboratories are still shut down,' states Ojimelukwe, who teaches and supervises undergraduate and postgraduate students. She studies the carotenoid profiles of so-called 'underutilised vegetables', which have regional importance but are under-appreciated, as well as roots and tubers.
The lab closures meant that some research was 'abandoned midway' and will have to be restarted. For example, Ojimelukwe's work extracting and quantifying carotenoids from local vegetables for in-depth analysis remains stalled. 'Some of the samples we already extracted had been sent to International Institute of Agriculture for HPLC [high-performance liquid chromatography], but we could not work on more samples,' she recalls. 'The research has not been restarted because the laboratories are not open.'
There are five core members in Ojimelukwe's research group, and she is spending the lockdown mostly writing up some of her work for scientific publication, and reading the theses of her postgraduate students.
Emergency in-person faculty senate meeting
Her team meets remotely, usually through Zoom, to address calls for research proposals, continue work on the data they have collected, and write up their work to submit to journals.
Ojimelukwe teleworks and visits campus about once a week. She just attended an emergency faculty senate meeting on 16 September involving the election of the school's new deputy vice-chancellor, as the incumbent's tenure will expire on 15 October.
Further complicating matters is that fact that the Academic Staff Union of Nigerian Universities (ASUU) has been on strike since March, including more than 1000 academic staff at Michael Okpara University of Agriculture. The strike came just before the pandemic hit and prior to the Nigerian government advising universities and other institutions in the country to shut down. Among the things under protest are the current wages and learning environment at Nigerian universities.
'The ASUU has been having a running battle with the federal government,' explains Ojimelukwe. 'I doubt whether any federal university is actually teaching students online because they do the best they can to stop everybody from working once they are on strike.' She emphasises that higher education institutions in the country do not have adequate systems in place for effective online teaching.
There are at least 40 federal universities in Nigeria, in addition to state universities and private universities. Most federal and state universities have an academic staff union that is participating in the strike. 'I don't know what it will take to resolve the dispute,' Ojimelukwe says. She notes that the protesting lecturers will likely stall university activities.
The government had asked Nigerian universities to reopen at a limited capacity in July for final year student exams, but that did not happen. While some private universities in the country have indicated an interest in resuming operations, the public ones – especially those owned by the federal government like Michael Okpara University of Agriculture – are insisting that this will not happen unless their demands are met. Ojimelukwe recounts, for example, that Lagos State University tried to open its gates but the striking lecturers refused.
Universities may not reopen in October
The academic calendar in Nigeria generally runs from October through July. It remains unclear when or whether these universities will reopen next month. 'I presume that some online teaching will be experimented on,' Ojimelukwe says.
She lives in Umuahia – the capital city of Abia State in southeastern Nigeria – with young adults and teenagers, two of which are her children and the others relatives. During this period, Ojimelukwe is concentrating on teaching them life skills such as cooking, sewing, baking and cultivating good reading habits.
The number of new Covid-19 infections reported in the country has dropped, after peaking in June and July. Some states still register about 100 new cases each day, while others are said to be free of the virus. Overall, Nigeria has reported nearly 57,000 Covid-19 cases and just under 1100 associated deaths, as of 18 September.
Ojimelukwe worries that the pandemic will slow down the pace of scientific development, including in chemistry, and she says this is a good time to write up publications.
On the plus side, she believes Covid-19 has highlighted the need for improved hygienic standards in research labs and elsewhere, as well as the value of virtual meetings and effective online teaching modules.
'I am realising the importance of distance learning,' Ojimelukwe says. 'Our students would have been able to continue learning from the comfort of their homes if online learning had been integrated effectively into the educational system.' She is currently grappling with how to most effectively teach food chemistry and biotechnology by integrating virtual instruction with normal classroom interactions.