A chemistry education researcher at the University of Michigan finds Covid-19 has been a springboard for change in academia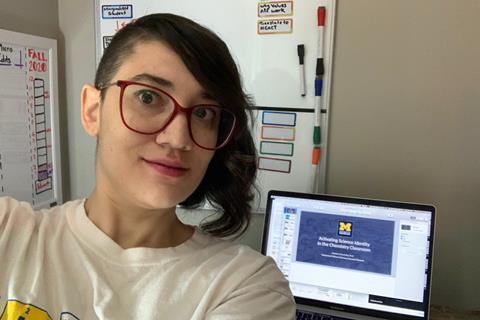 During this difficult time, Chemistry World is checking in with notable chemists around the globe to see how they are weathering the coronavirus pandemic.
Paulette Vincent-Ruz, a chemistry education researcher at the University of Michigan (UM) in Ann Arbor, hasn't been to her campus office since March when the university cancelled in-person classes and transitioned them online. 'I moved here in January and had barely started when Covid struck,' Vincent-Ruz recounts. 'My research focus shifted from trying to understand how people learn, and how to improve learning in the chemistry classroom, to immediacy work,' she says.
In addition to advising professors and instructors on how to translate their courses to the online environment and ensure they are accessible to all, she wrote five grants in the last eight months to help shed light on how Covid-19 is affecting graduate students and researchers at UM.
'These grants were mostly about how to create a system that uses data in a way that allows us to know where we are not supporting students, and translate it quickly to advice for the university and professors so that changes can be implemented quickly,' Vincent-Ruz explains.
She says one of the biggest challenges has been convincing chemistry professors to move away from lectures, despite data showing they do not teach students effectively. 'Chem-Ed is not the most respected subfield of chemistry, we are not taken seriously … so it is really hard to tell a professor to stop lecturing, no matter how much evidence you show them,' Vincent-Ruz adds. 'People are still doing it and just talking to the camera – they are expecting 200 people to log in, and they are doing a PowerPoint.'
The pandemic has forced UM's chemistry department, and others throughout academia, to rethink the role of lectures, classroom instruction, exams and mentoring, according to Vincent-Ruz. For example, she says many professors have focused more on group discussions, dedicated increased time and attention to mentoring students, and also spent energy organising their classes to ensure even the most marginalised students can fully participate.
Re-examining the exam
Vincent-Ruz, who advises professors and UM instructors, says these are positive changes that should be permanent. In particular, she believes Covid-19 has underscored the need to reconsider exams. The automated systems used to proctor take-home exams notice, among other things, if a student opens a new tab or resizes a window. They also use cameras on students' computers to track their eye movements and detect aberrant behaviour deemed indicative of cheating.
'It is super-creepy,' Vincent-Ruz says. Professors receive these reports without any other context, and they can fail a student based on this information.
Amid Covid-19, she says chemistry professors must either maintain this questionable system of proctored remote exams, ditch exams or radically change them. 'We don't even know what these exams are measuring … there is way more than knowing that goes into getting a good grade on an exam,' Vincent-Ruz says. 'We have been fighting for change in higher education for a while, and sometimes shocks to the system like this are things that help us move forward.'
Meanwhile, hundreds of graduate students at UM went on strike on 7 September due to apprehension about the university's reopening scheme. They stopped working, picketed and marched, concerned that they could be penalised or face repercussions from professors and advisors for choosing to work 100% remotely. They also protested the presence of police on campus to ensure mask-wearing and social distancing, and demanded assurances that their graduate programme milestones will be extended for a year if needed. These worries came amid a surge in Covid-19 diagnoses in residence halls almost immediately after the semester began at the end of August.
Graduate students strike
There were 40 cases of the virus among students, faculty and staff by mid-March, before UM largely closed down and went remote. The weekly infections then fell off steeply and stayed quite low for months, but began rebounding in late August when people returned to campus. The week beginning 13 September saw 47 confirmed cases.
The graduate student strike, which lasted about a week, significantly affected UM. It's a big university with popular introductory courses, like general chemistry, comprising sections of about 200 students. The graduate students assigned to such classes left instructors with no teaching assistants.
The strike ended on 16 September when the Graduate Employees' Organization, facing an injunction and possible retaliation from the UM, accepted an offer from the university's administration. Postdoctoral researchers at UM like Vincent-Ruz don't have a union and therefore could not officially strike.
Besides rethinking old academic norms, another positive to come out of the pandemic is that she and her husband – a graduate student in computational chemistry at the University of Pittsburgh – are now able to live together in Ann Arbor, off campus. 'He can connect remotely to computers, so he asked his advisor to move here for the rest of the year,' she explains. If it wasn't for Covid-19, they would have had to live apart for about a year and a half.
Vincent-Ruz and her husband had to make significant investments to transform their home into a comfortable workplace – buying desks, a better computer for her husband that's powerful enough for his professional needs, and upgrading their Internet. Also, their living room has disappeared. 'We joke that we now have an office that happens to have a TV and a sofa,' she says. Vincent-Ruz says this is a metaphor for the loss of barriers between work and home.
'I find myself sometimes not working on a Tuesday, but on a Sunday instead,' she says. The lack of structure is problematic, but there is no end in sight. She expects to continue teleworking for at least the rest of 2020.