As Japan declares an emergency state, a Romanian team leader at Riken uneasily shuts down his lab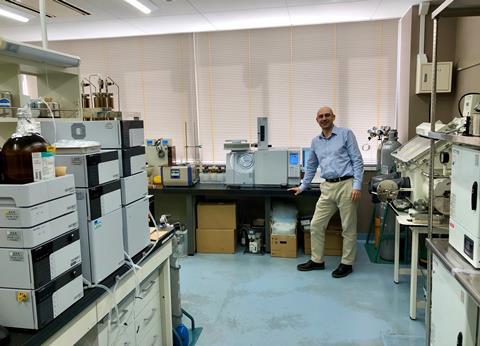 During this difficult time, Chemistry World will be checking in with chemists around the globe to see how they are weathering the Covid-19 pandemic.
Japan has just entered an emergency state for seven of its hardest-hit prefectures to fight the Covid-19 pandemic, and many of the country's major research institutes like Riken in Saitama have closed and ordered employees to work from home, effective 10 April. Previously, there were only milder distancing measures in place in Japan, but precautions have ramped up following significant jumps in Covid-19 infections in major cities like Tokyo.
'The institute will be in a lockdown state – nobody, with some exceptions, will be allowed in – and all labs are closed,' says Laurean Ilies, a team leader at Riken whose research focuses on organic synthetic chemistry and catalysis.
Ilies closed his lab on 10 April, turning off all machines and unplugging all equipment, except a PC station used for computation, and ensuring that all sensitive materials like reagents and solvents were properly stored. 'Japan is prone to earthquakes, so we make sure everything is hazard-proof,' he says. The only experiments still running are computational studies, which can be done from home by remotely accessing the lab's servers.
The emergency state is expected to continue until at least early May, and Ilies' research group will now mostly communicate by email, with occasional meetings on Zoom. As a team leader, he feels responsible for the well-being and careers of the eight researchers who work for him, and he worries about the potential impact of the current shutdown.
'We are finishing a project in a very competitive area and we want to publish as fast as possible,' Ilies says. Leading up to the closure, one of his researchers spent two nights in the lab. 'Hopefully, we will have enough data for submission,' he says. Another researcher worked overnight to finish collecting the data for a paper the team plans to submit shortly.
A potential career disaster
Two of Ilies' other postdoctoral students – one of whom is Indian and the other Ukrainian – are supposed to complete their work at Riken at the end of the year and are therefore working hard to finish their projects. 'A long pause in experiments is a disaster for them, because like it or not, a good publication is a game changer in applying for the next position,' he says. 'The economic downfall that will surely follow [this pandemic] will hit everybody hard,' Illies adds. He is also worried about research funding in the near future.
Meanwhile, Ilies is in the process of hiring two other postdocs from India, who were supposed to join his team at the beginning of June. Because of the lockdown situation, he expects their visas to be delayed and is uncertain when they will be able to come to Japan.
Ilies himself came to Japan from Romania in 1999, on a scholarship from the Japanese government. He studied Japanese for a year, and then entered the University of Tokyo in 2000. Ilies, who remains a Romanian citizen, became an associate professor there in 2014, and joined Riken four years later.
He still teaches an organic chemistry course at the University of Tokyo, where classes have now moved entirely online. The academic year in Japan just began in April, and it is unclear when in-person classes will resume.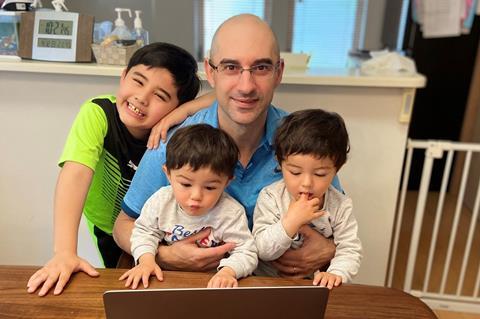 Working from home is quite challenging for Ilies, who is a father of three young children. His older son's primary school has closed and moved all classes online. Ilies' son needs supervision to complete this work and is quite bored these days. His younger two children are just two years old, and fortunately their day care remains open for the moment. A baby sitter is also helping with childcare on a daily basis.
Despite the emergency state in Japan, trains are still running, private businesses are open, and there are lots of people outdoors taking a stroll or jogging, Ilies says. Outside of their homes, many folks are wearing masks – which are hard to come by – but not everybody.
It is hard to cope with the stress and ambiguity of the current situation. Tennis is a hobby that usually keeps Ilies' spirits up, but all courts and clubs are now closed. So, instead, he makes time to practice some short rallies with his older son in a local park. Beer also helps, he says.