Researchers are returning to labs in Switzerland with social distancing measures in place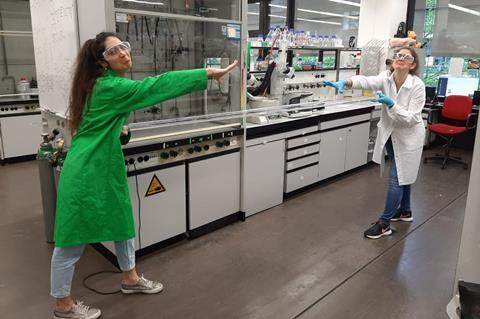 'I'm just happy to be back,' says Mélissa Nehme, a PhD student in Michel Rickhaus' team at the University of Zurich in Switzerland. While Nehme and her two colleagues are finally back in the lab after five weeks of closure, they now have to observe strict social distancing rules.
Switzerland has seen over 30,300 confirmed Covid-19 cases and around 1800 deaths, but avoided some of the stricter quarantine measures neighbouring countries imposed. Since the end of April, there has been a gradual restart, with some shops – including hairdressers – reopening. Restaurants, pubs and gyms reopened on 11 May.
Closing down
The University of Zurich's closing was riddled with uncertainties. 'There was a week where we didn't know if we would have to shut down everything or not,' recalls PhD student Lucía Gallego, also part of the research group that works on macrocycles and polyaromatic systems.
'It was all quite abrupt,' says Joe Woods, PhD student and third Rickhaus team member. On Friday, 13 March, the government announced that all classes in educational establishments needed to be cancelled immediately. 'We got the message that the teaching course had to shut down,' Woods recalls. 'So we made sure the teaching labs were safe, then came back to [our research] lab and shut that down.'
Although the team was allowed back into their lab the following Monday, the university finally closed it down entirely on Wednesday, 18 March. 'We had to work up some reactions, which weren't even ready,' says Nehme.
Working from home brought new challenges. Meetings with collaborating groups, literature seminars and problem solving sessions were all done over Zoom. 'We had around seven meetings per week. It was crazy,' says Gallego.
Without a whiteboard, the researchers resorted to sharing their screens and using ChemDraw to sketch up chemical structures. 'It was quite brutal,' says Nehme. 'You try to draw, the arrows and everything, which takes a long time, and all while you hope your laptop doesn't spontaneously shut down.'
Staying productive during that time wasn't always easy, says Nehme. 'I just cooked, exercised and I tried to stay sane. It was really good that we could complain to each other.'
'You've got to have an outlet because if you just go home and think "Right, all I have to do is work", you're going to end up burning yourself out, working seven days a week,' says Woods. 'I'm quite into my running, so I'm thankful that I'm able to go outside and run every day.'
'Sometimes we didn't keep our spirits up,' says Gallego. 'We just cried together. You're in your room the whole day on your own, reading papers, doing exercises – that was so tiring.' Gallego's family and many of her friends live in Spain, a country that was hit hard by the pandemic and imposed a strict stay-at-home order. 'Even though I could go out here I didn't, out of solidarity,' Gallego says.
Opening up
On 27 April, the team was finally allowed to return to the university. Although the labs were monitored by safety staff during the closure, 'I came back here on Monday for the first time after the lockdown and one of the freezers was turned off', Gallego recalls. 'All of my compounds were in there. I was quite shocked at that moment – I hoped that I wouldn't lose everything. But the three or four most important ones are fine.'
Social distancing measures are now in place all over Switzerland – including in the team's lab. 'We have tape on the floor, two metres apart,' explains Gallego. 'We have to clean the door handles every day with ethanol. I had to move to another fumehood because it was too close to Joe's.'
Touchpoints on shared instruments are disinfected after every use, and the chemists wear gloves. Corridors have become single-track roads as they are too narrow to pass each other while keeping two metres distance. 'It's definitely making us slower, because it's a bit time consuming,' says Nehme.
Social activities within the team have also suffered. 'In our common room, it's one person at a time,' says Nehme. Communal coffee breaks are off and the team brings packed lunches to avoid using the university's only operational cafeteria.
'Sometimes it's hard to keep those two metres distance,' Gallego says. 'I was setting up some reactions yesterday and I needed some help from Mélissa, because it was a big flask and I needed her to hold it for a moment.'
Nevertheless, the team feels lucky to be able to work regularly. Larger teams have to do shifts to adhere to the distancing rules. '[Some] people are in the lab one week and then two weeks off,' Gallego explains. 'That would definitely affect our research.'