A young computational chemist from India, working to finish his PhD in Italy, is getting media attention for his social action during the pandemic
During this difficult time, Chemistry World is checking in with chemists around the globe to see how they are weathering the Covid-19 pandemic.
Akash Deep Biswas is from Tezpur, Assam – a town in northeast India on the banks of the Brahmaputra river. A scholarship from Scuola Normale Superiore in Pisa allowed him to come to Italy in December 2016 to pursue a PhD, and the computational chemist is due to submit his thesis by October 2020. Covid-19 has caused a bit of a hiccup in his plans, but Biswas is staying put and is using all of his energy and scientific expertise to combat the virus and complete his doctorate.
His work had focused on the hydration shell of 17 proteins, but he decided in February to start concentrating on the Sars-CoV-2 main protease as a drug target. After publishing a paper in the journal Physical Chemistry Chemical Physics in mid-February, he and colleagues have moved to studying the Covid-19 hydration shell, specifically trying to identify a molecule that can inhibit the protease and thereby prevent the virus from replicating itself in a human host.
'I was seeing that every day people are dying, so as I have expertise in drug development it was my idea to change directions,' Biswas explains. 'I have taken a big risk by switching course and spending the majority of my time now working on Covid-19 … but I am ready to do anything for humanity.'
His research group, which is under the leadership of theoretical and computational chemist Vincenzo Barone, is made up of more than 20 researchers. Their lab closed on 13 February, and the entire team is working from home. Biswas and his colleagues are currently communicating through emails, and they set up virtual meetings when required.
'Things are going ahead, but they are a bit slow,' Biswas says. 'We are computational people, if we just meet through [Google] Hangouts that is enough for us,' he adds. 'We are not very much affected through this mandate to work from home compared to the experimental people.'
Not going home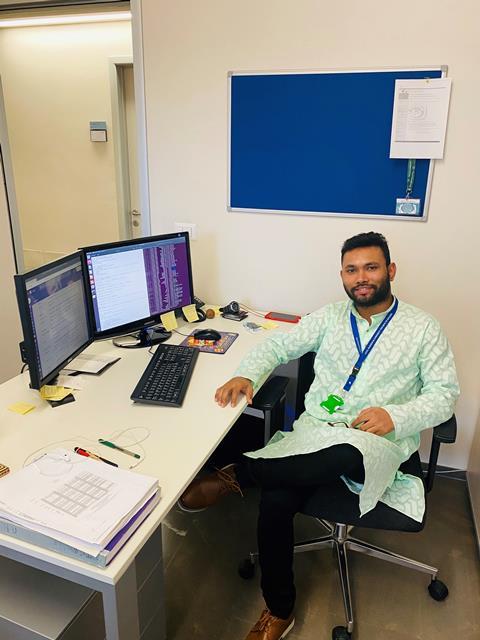 Biswas feels deeply rooted in Italy. Since the Covid-19 outbreak, the country's Indian embassy has requested many times that he and other Indian citizens studying there return home. Biswas has some friends who were airlifted from Rome to India in March, but he has resisted all attempts to get him home. 'Under any circumstances, I am not going to leave this place,' he tells Chemistry World, saying he feels indebted to the country and will not depart until the virus is under control there.
Meanwhile, not only is Biswas using his Italian government-funded scholarship to pay his bills and those of his family back in India, he also donated one month of his salary to Italy's health department on 23 March. 'Many people joined this movement, and I was really very happy,' he recounts. He also plans to give part of his following month's paycheck to the cause. 'I will do a second donation, a minimum amount because my family needs the money, just to inspire other people who are thinking about whether to donate or not,' Biswas says.
Such social action is the primary way that he keeps his spirits up, he says. Indeed, the local Italian media has highlighted Biswas' generous donations, and his campaign to get researchers in the country to support the national health care system. Biswas also has helped to create an organisation that donates study materials to children in areas of India that lack such supplies, and he is also leading a separate effort to feed stray dogs in Guwahati, Assam, India.
He has also achieved some renown in India for his efforts during this difficult time. Biswas has launched a Facebook Live series to advise people in India how to navigate this pandemic and resultant lockdowns, and several of these videos have gone viral.
The quarantine in Italy is expected to last at least into May, and Biswas is starting to feel claustrophobic stuck in his apartment. He used to have three flatmates, but one left in February to be with his parents, and he gave another roommate an ultimatum since he was spending all day with friends in an upstairs apartment and then returning home to sleep. 'Our quarantine is of no use if he comes and goes … so we told him strictly that he would have to choose to stay here or to stay upstairs, and he chose to go upstairs,' Biswas explains.
Falling ill
Now, he has just one roommate – an Italian who is studying at the University of Pisa. The two of them are strictly self-quarantined, having last left the apartment on 24 March to go to the supermarket.
Nevertheless, when we spoke Biswas had fallen ill a few days earlier with body aches, a high fever, exhaustion and headaches. He had been prescribed antibiotics, and because they now appear to be working his doctor has not ordered a Covid-19 test. 'I am sure during this lockdown if I feel sick again they will immediately proceed with the test,' he says.
One of his friends has been infected with the virus, but it's unclear whether anybody in his lab or university has Covid-19 because Scuola Normale Superiore is not disclosing such information.
Biswas anticipates that it might not be until the end of July when things truly return to normal in Italy. He says his lab and university may be open a bit earlier, but he expects that ordinary activities, like attending social events and conferences, will take much longer.
But there are hopeful signs. The number of active Covid-19 cases in Italy has just recently fallen for the first time since the crisis began. As of 21 April, the total number of new coronavirus infections nationwide was just under 184,000, with more than 24,600 associated deaths, according to Italy's Civil Protection Agency.
Back home in India, meanwhile, the pandemic appears to be under control for now, thanks to an early and total lockdown. The country had reported approximately 18,000 Covid-19 cases and around related 600 deaths as of 21 April.